If you are the someone like me, you will agree that music plays a critical role in our daily life. However, not every song fits any occasion. For example, rock and roll songs of Linkin Park are very exciting and inspiring when doing a workout or when you feel down; however, it is too noisy when you are working on a complicated mathematics problem. There comes the playlist, which is a collection of similar songs on the same topic.
As a content marketer, most of my time is spending in front of the computer. I always use Spotify playlists to stream music when I am occupied with working, studying, reading and thinking. These playlists help me focus on the job and I feel like more high-efficient. In the following paragraphs, I will recommend you 5 Spotify study playlists I love the most while working and studying.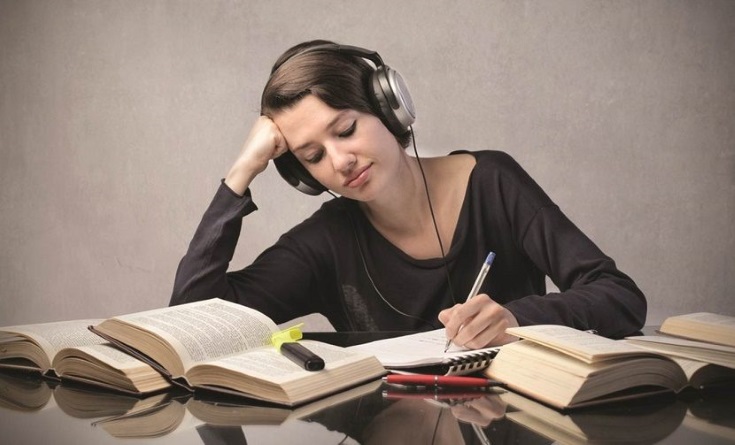 CONTENTS
Part 1. 5 Best Music for Studying - Playlists & Podcasts List
1. Acoustic Coffeehouse
It's a list of soft mellow tunes for focusing and relaxing, featuring a large variety of artists and songwriters. The soft background music is not overbearing while studying. I like this list very much because most songs in it are a little unfamiliar to me, I am seldom distracted by singing along.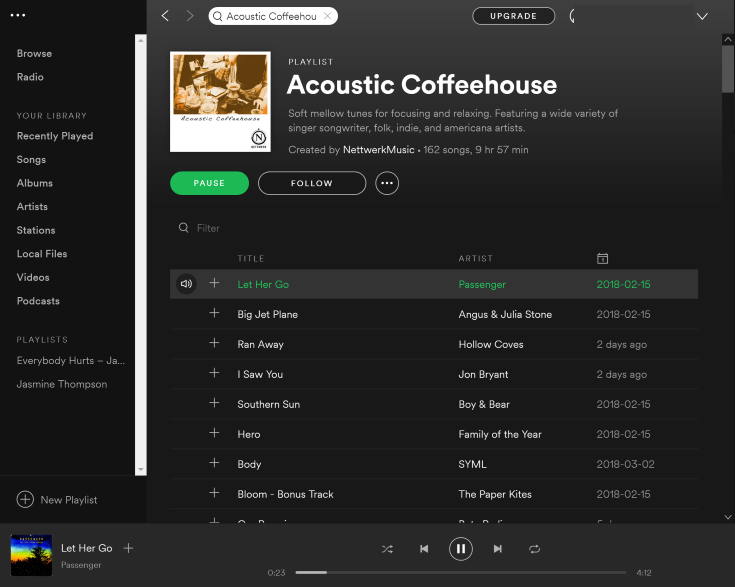 2. Acoustic Concentration
This Spotify playlist is perfect for concentrating on your study. Put on your headphone and enjoy this lyric-free Spotify music from Tommy Emmanuel, Phil Keagy, Michael Hedges, Antoine Dufour and more guitarists.
3. Microtherapy
If you don't like instrumental tracks, try ambient sounds. There are not only wave crashing, birds chirping, but also other substance, try it by yourself.
4. Nature Sounds
Here are another ambient nature playlists for you. Check different types of forest sounds and waterfalls in this best music for studying. No music, no lyrics — just two hours of the calming sounds of the forest.
5. A Soft Backdrop
A Soft Backdrop is an editors' choice for focused studying. It strikes a good balance between too noisy and too hypnotic.
Part 2. Download Spotify Playlists with Spotify Premium Plan
Of course, there are other perfect Spotify podcasts or playlists for entertainment, for bad moods, for workouts, for sleep, etc. However, if we didn't download the playlist to play offline, the songs will be stuttered somewhere having a bad Internet connection. Without Wi-Fi connection or cellular data, we can't even stream a single track of sounds. Here are the steps on how to download Spotify Playlists with Spotify Premium Plan:
Step 1. Purchase Spotify Premium Subscription
On the official site of Spotify music, you can see two options there: Spotify Free and Spotify Premium which have different limits. Choose a Spotify Premium plan and pay for the subscription by hitting on the green "GET PREMIUM" button.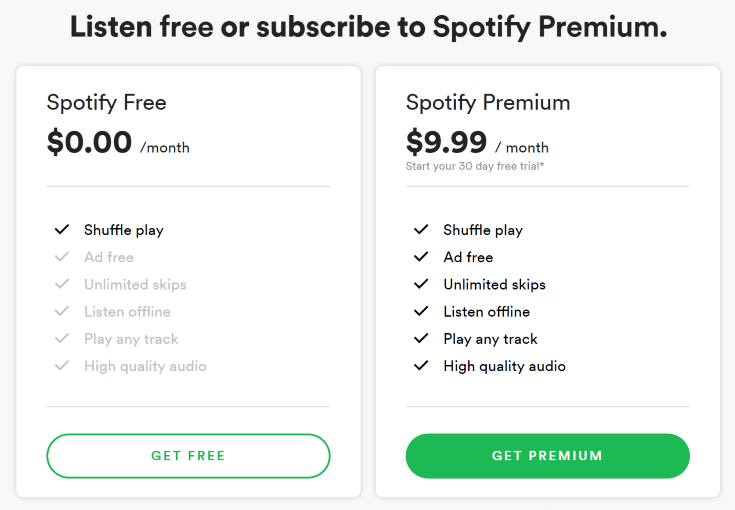 Note: If you are not very sure whether to purchase for the Premium version, check this post to see the comparison between Spotify Free vs. Spotify Premium. If you don't want to waste $9.99 to download Spotify playlists offline, you have another option. We will uncover the mystery in part 3.
Step 2. Create a New Playlist
After getting your own premium version, you can log in your Spotify account and create a new playlist to copy your favorite playlist songs inside: Find the "..." > "File" > "New Playlist" to add the new playlist to your Spotify account.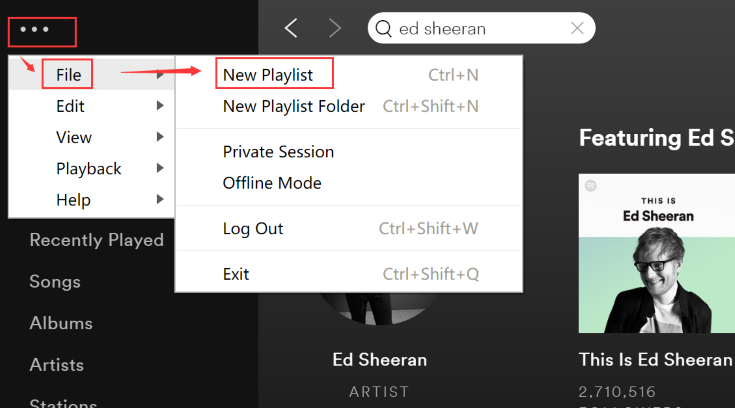 Step 3. Download Songs in Your Playlist
Find the playlist you just created and turn on the "Download" toggle.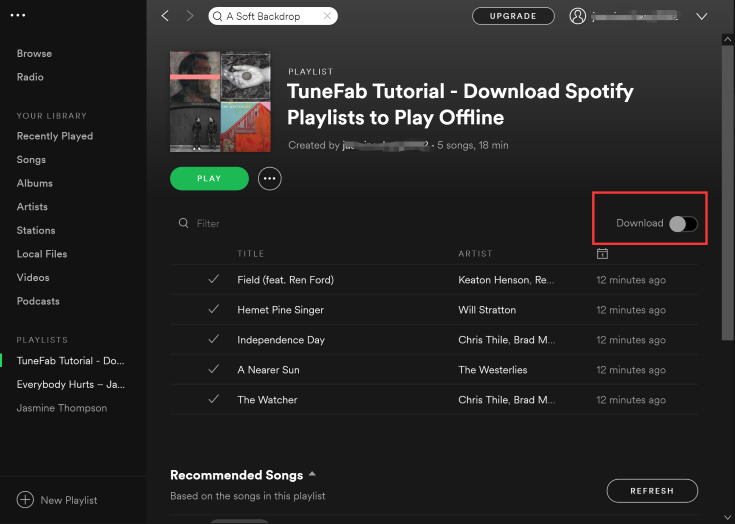 Step 4. Turn on Offline Mode to Check
After downloading the songs, you can go to "..." > "File" > "Offline Mode" to simulate conditions without Internet connection.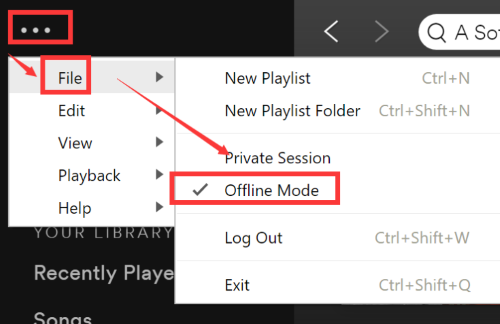 Note: Now you can try to stream the Spotify playlist for focused studying on your computer. The steps to play Spotify music offline on iPhone is similar, you can check it on your iOS devices as well. The songs that are not downloaded will turn lighter white and it becomes accessible. If the songs look like this, you need to turn off "Offline Mode" and re-download the songs.

Part 3. How to Play Spotify Music Offline without Spotify Premium
As we've mentioned above, there is another solution to play Spotify playlists offline if you are not willing to pay for Spotify Premium subscription with the help of TuneFab Spotify Music Converter.
TuneFab Spotify Music Converter is an excellent Spotify music downloading software as well as a music converter. It serves Spotify enthusiasts perfectly with its awesome features:
1. Freely download Spotify music without Premium plan
2. Convert Spotify music from OGG format to MP3 format to better enjoy songs
3. Change bit rates and sample rates for better sound quality
4. Save ID3 tags automatically
Download TuneFab Spotify Music Converter by clicking the button above and just follow my pace.
Step 1. Launch Spotify Music Converter on PC
Finish the downloading process and install TuneFab Spotify Music Converter on your PC.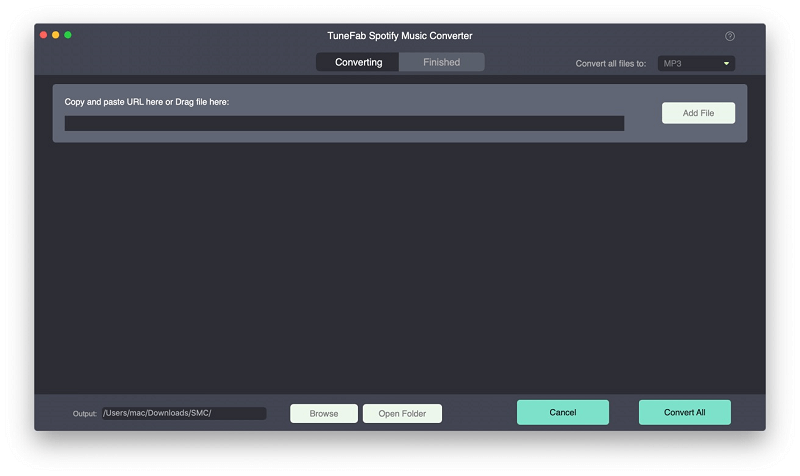 Step 2. Add Spotify Playlist for Converting
Drag and drop Spotify playlist into the interface and hit on "Add".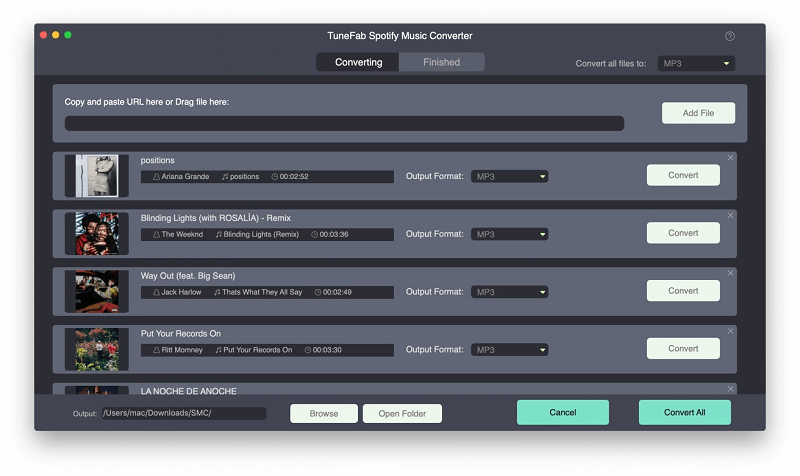 Step 3. Choose MP3 as Output Format
Choose MP3 as output format you want, a music format that is more compatible on different platforms and players. Go to "Option" > "Advanced" > "MP3".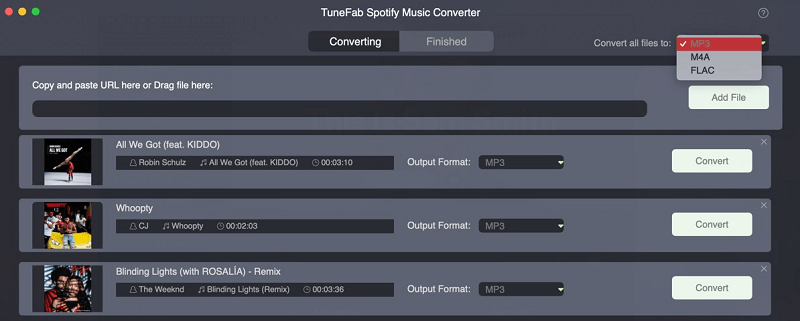 Step 4. Start Converting Spotify Playlists
Choose "Convert" and wait for several seconds.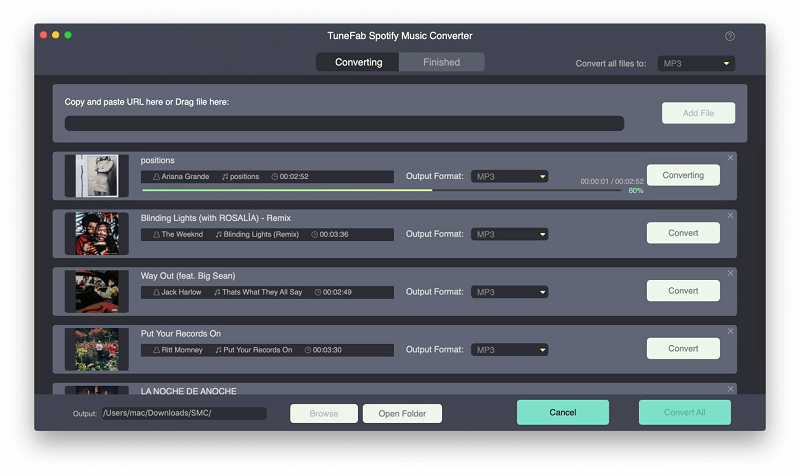 With these 4 simple steps, your Spotify playlist is now ready for offline streaming. You can copy the same steps on your Android phone, iPhone, computer and Mac so that you can stream Spotify playlist for focused studying anywhere without the Internet connection. Of course, there is another extraordinary usage scenario for using TuneFab Spotify Music Converter such as backing up Spotify music to external hard drive, play Spotify songs on Amazon Fire TV, and so on.
Was this information helpful?
TrustScore 5 | 1