If you are a Pandora Music maniac, you should know that there are playing limitations for the downloaded music in the Pandora app. And that restricts you from playing it on other apps since its music is protected by DRM. The inconvenience is certainly a bummer when you want to play it on other devices.
On the other hand, downloading Pandora Music to a USB would definitely be a wise move, given the inaccessibility of the downloaded music after an inscription. To a certain degree, you could still maintain workable access to music while saving money by not subscribing to Pandora.
Here in this post, we are going to preach to you a workable and efficient method, helping you to download Pandora music to a USB for a more flexible utilization.
CONTENTS
Can You Directly Download Pandora Music to a USB?
The answer is apparently no. Here in this part, we will cover the main factors that prevent you from directly downloading Pandora music.
Well, the inapplicable reason lies in the unusual format of the downloaded files on account of Pandora's DRM protection. The downloaded music is an encrypted AAC file that restricts you from playing it on other devices but only within the app.
Given the inability to download to a USB directly, if you want to use Pandora music in a flexible manner, you will need to download or convert the Pandora music into a highly compatible format before transferring it to a USB. This method will resort to a third-party tool. And we highly recommend TuneFab Pandora Music Converter. With the help of this tool, you can easily download Pandora music into an MP3 file with better compatibility. After the format changes, transferring to a USB device will be a piece of cake.
How to Download and Transfer Pandora Music to USB Drive?
Below is a detailed explanation of why we suggest TuneFab Pandora Music Converter and how to download Pandora music to a USB with a clear operational guide.
First of all, TuneFab Pandora Music Converter is PC software made specifically for the purpose of converting music file formats, and it works with both Windows and Mac operating systems. You can convert the encrypted audio format into a highly compatible audio format. What's more, with the help of TuneFab Pandora Music Converter, you can not only download single songs and albums but also playlists or even podcasts in bulk.
To be frank, with a variety of handy and efficient functions, the TuneFab Pandora Music Converter is really a good choice compared to many tools in the application market. Here are its bright spots:
● Easily Remove the DRM Encryption: To be successfully converted to a commonly used format, this software is equipped with a powerful and effective decryption feature that can remove the encrypted format and convert it to the desired format.
● Accept Diverse Media Content for Conversion: In addition to the single songs, the target converting object also includes playlists, albums, and podcasts in Pandora, providing you with more options for audio conversion.
● Support 4 Output Formats of MP3、M4A、WAV、FLAC: The TuneFab Pandora Music Converter offers four audio formats that are highly compatible with the majority of devices on the market. After the conversion, you can easily play the audio files on other devices without concern for format restrictions.
● Permit Batch Conversion and a 5X Processing Speed: This program allows you to convert in bulk rather than having to do it one at a time, which definitely saves you from the tedious and time-consuming job. Furthermore, the conversion speed could be five times faster than usual. It unquestionably contributes to a more efficient conversion and helps you save valuable time.
● Customize Your Output Sound Quality: TuneFab Pandora Music Converter provides the possibility of customizing your personal parameters, such as bit rate, sample rate, or even output path. With these advanced options, you can obtain an audio file that is more polished and of high quality to meet your needs.
● Fully retain the original ID3 data: TuneFab Pandora Music Converter has the capacity to detect and preserve the original ID3 information of the converted music. You can still access the entire ID3 information after the conversion.
Steps to Download and Move Songs from Pandora to USB
After a brief introduction of TuneFab Pandora Music Converter, if you are interested in this tool and want to know the specific steps, you can read on. Here in this part, we are going to give you a step-by-step instruction on how to download Pandora music to an MP3 format and move songs to a USB:
Step 1. Log into the Pandora Music Web Player
The first step in your action is to download TuneFab Pandora Music Converter and finish the installation. Open the software, and click  "Open the Pandora web player", then you will see the log-in homepage for the Pandora Music Web Player. Enter your account and log in for further operational requirements.
By the way, both Pandora's free account and subscription account can download songs for free with TuneFab Pandora Music Converter.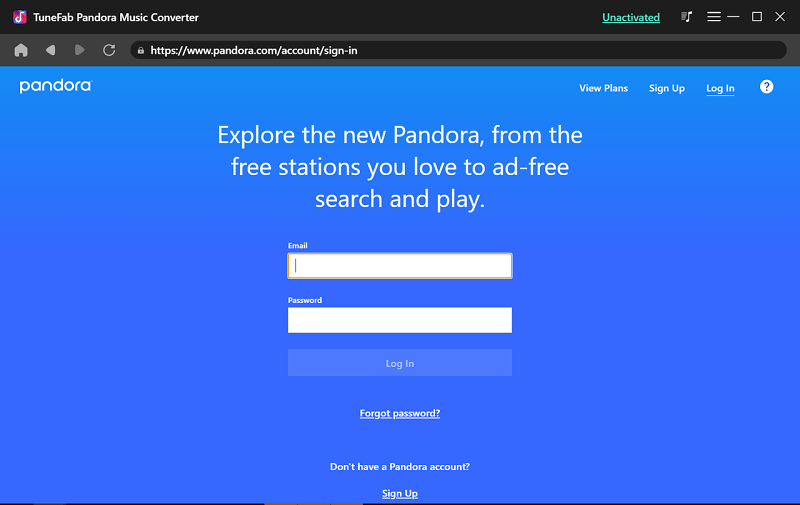 Step 2. Select Songs You Like to Convert
Once you log in, you will find the homepage shown below. Here, you will select the songs that you want to convert by browsing or searching. Then you can add the songs to your convert list by directly dragging or using the form of automatic detection on your playlist or podcasts.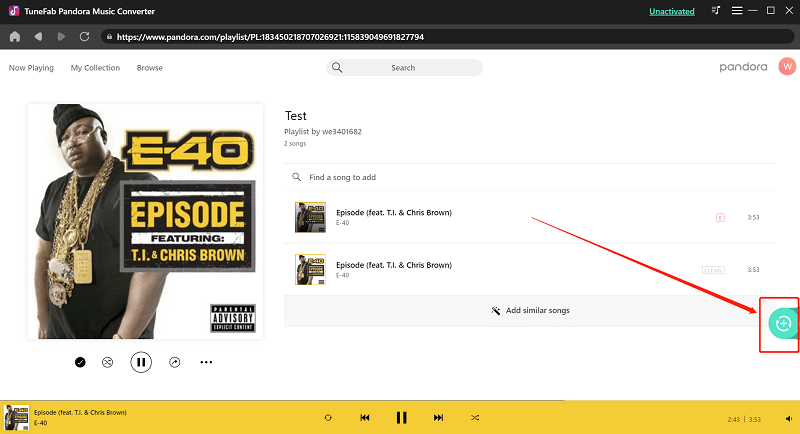 Step 3. Choose MP3 as the Output Format for USB Drive
After you finish adding the songs, this is where the format setting comes in. Here, on the left side of the button "Convert", you can see there is a select box for the output format. Click it and select your favorite format. It is suggested to choose the MP3 format, which has better compatibility with the many devices on the current market.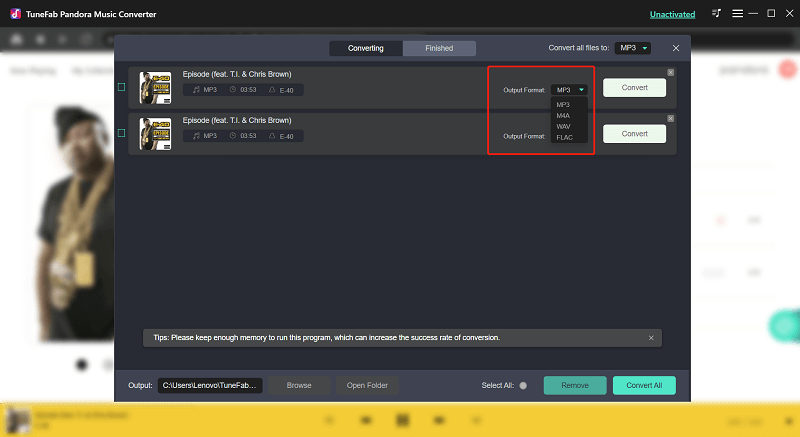 Or you can set the parameters in advance in "Preference". If you don't know where you can find this button for further settings, you can follow the steps below.
Go to the rightmost top corner and find the toolbar with the three-line icon. Click on the toolbar, and you will find the "Preference" option. A pop-up window will show up after a click.
Here in the "General" area, you can set the output folder by browsing or manually entering the navigation address. By using this setting, you can easily find your output files without spending time to re-seek them.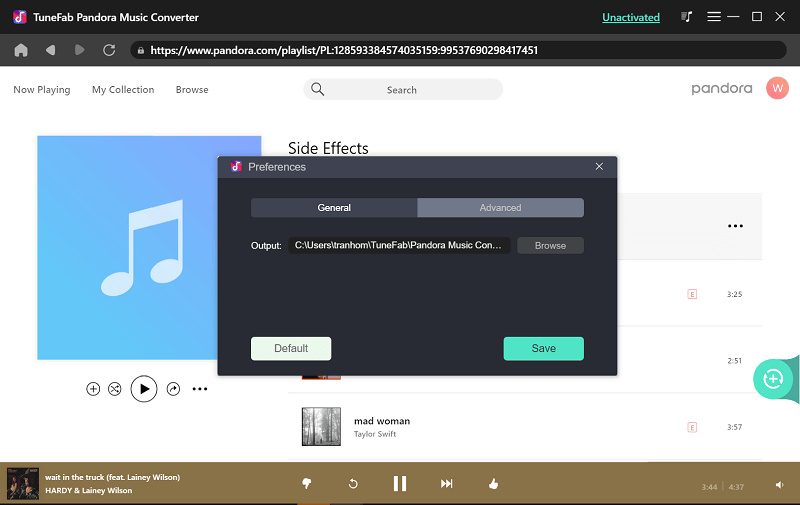 Here in the "Advanced" area, there are 3 setting options that, respectively, are the output format, sample rate, and bit rate for you to customize your output audio parameters. With these optional settings, you may personalize your favorite music's format and characteristics.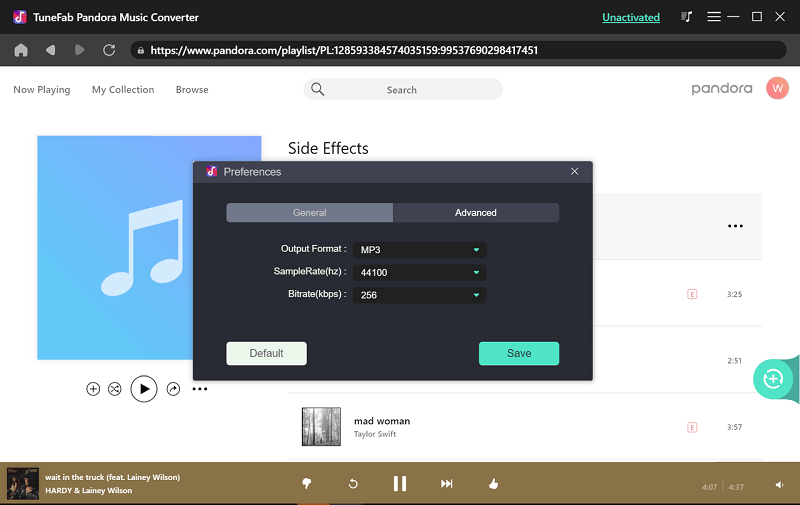 Step 4. Start Converting Your Pandora Songs/Playlists to MP3
When the output format and output address have been perfectly set, you can start the conversion right away by clicking the "Convert" button. With a 5X processing speed, you don't have to wait too long. It's a blink of an eye.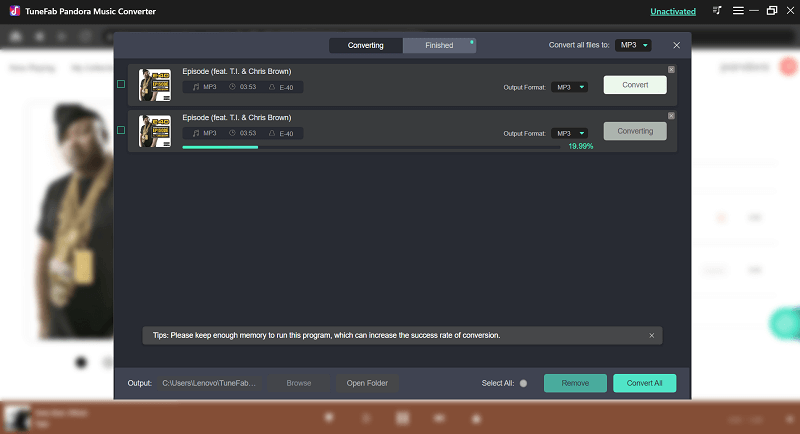 Step 5. Transfer Your Downloaded Music to the USB
Once the conversion is finished, you can check your converted files by clicking on "View output files". It will navigate to the final output folder. At last, you select the downloaded Pandora music and transfer it to the USB. And that's all. You have successfully downloaded Pandora music to USB.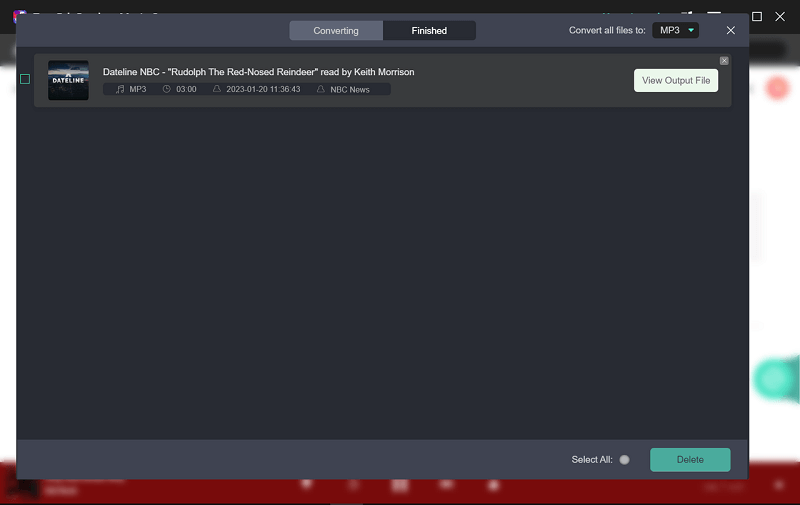 Conclusion
For people who want to download Pandora music to USB but do not have a clear concept of how to download Pandora music to USB, we have proposed a suitable and effective solution. With the help of TuneFab Pandora Music Converter, you can simply download Pandora to MP3 (a highly compatible format), giving you more flexibility to utilize your downloaded Pandora audio on many other devices. Then why wait? Go get yourself an excellent helper right away for a better musical experience!
Was this information helpful?
TrustScore 5 | 49