"Should I keep my audiobooks as mp3 or m4b?"
When you listen to the audiobooks in different devices, you might find that there is something different about the formats. Audiobooks purchased in iTunes Store are saved in M4B format, but a majority of people might prefer audiobooks with MP3 format. You probably will be wondering why? Is there any difference between MP3 and M4B? Never mind, you are able to find the answer from the following article.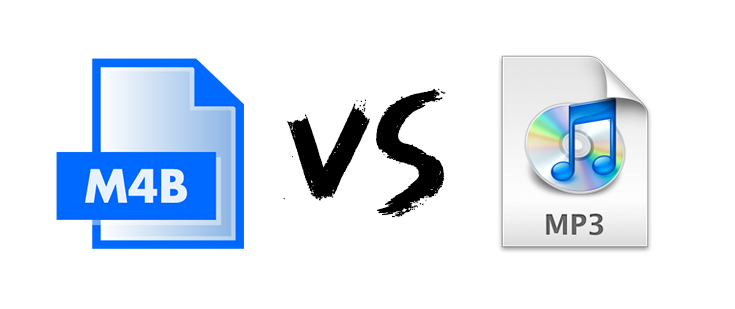 What Is M4B?
M4B is a file extension, commonly used by iTunes to protect the copyright with DRM and encoded with AAC(Advanced Audio Codec) encoding. M4B format has some similarities with M4A and you might be confused about that. But it's not too hard to distinguish them. The M4A format is mainly used for streaming music files while the M4B format is usually used for audiobook files.
Additionally, M4B files are not widely supported by many media players, especially the DRM-protected M4B audiobook files. For Windows, M4B files are playable on the iTunes, Microsoft Windows Media Player, Microsoft Zune and other media players. As for Mac, you can use iTunes, 5K Player, QuickTime Player and other M4B players to play M4B audiobooks.
The Biggest Advantage:
M4B files remember where you stopped so that you don't have to listen to the audiobook from the beginning next time.
What Is MP3?
MP3 (MPEG-1 Audio Layer-3) must be the most popular audio coding format for digital music files because it is accepted by most media players. It is permitted to store digital music files and audiobooks. What's more, its small file size is about one-tenth size of the uncompressed audio files while it still keeps high quality the same as CDs'. Since MP3 files are playable for lots of media players, you don't have to worry about the incompatibility.
However, compared with M4B files, MP3 files can not remember the place you left before, so music files or audiobooks will restart from the beginning. Moreover, they are not available to high definition audio that sampling rates are higher than 48kHz. But all the problems above don't stop MP3 files getting popular because they are not limited by DRM protection.
The Biggest Advantage:
MP3 files are universal accepted by hardware media players and devices because of no-DRM protection.
How to Convert M4B to MP3 with TuneFab M4B Converter
After the comparison between MP3 and M4B, you might discover that M4B limits your enjoyment of listening to audiobooks to some extent because of the DRM protection. On the contrary, MP3 is accepted by almost all devices and you can listen to audiobooks without limitation under MP3 format. So is it possible to convert M4B into MP3? Of course YES! Here's a third-party software called TuneFab Apple Music Converter, which is capable of DRM removal.
TuneFab Apple Music Converter has the ability to unlock the DRM protection of M4B, supporting lots of output formats such MP3, M4A, AC3, AU, FLAC, AIFF and MKA, etc. Most importantly, you can finish the conversion in few minutes with easy operation of four steps.
Step 1. Launch TuneFab Apple Music Converter
First, you need to download the latest version of the software to make sure it's compatible with your computer. After launching it, you should check if your iTunes is connected to the software or not. Or you can't read your iTunes playlists directly from the software.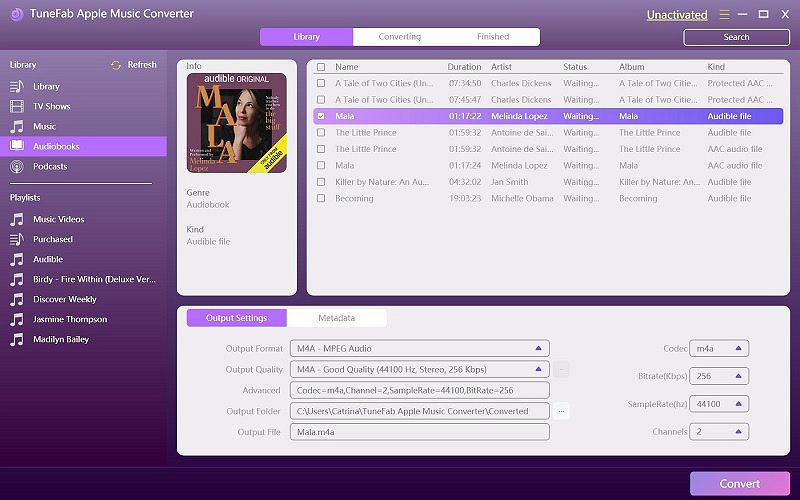 Step 2. Choose Converting M4B Music
If it's running successfully, you can pick out the M4B music files you want to convert directly from TuneFab Apple Music Converter.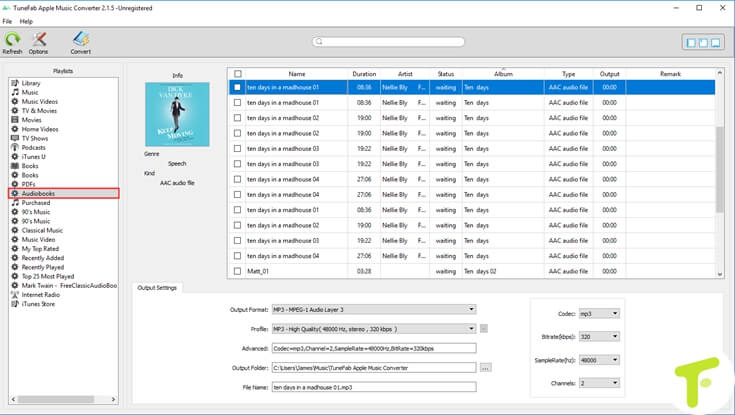 Step 3. Select the Output Format
You almost finish the conversion! In this step, you are able to select an output format which is suitable to your device from the drop-down list of "Output Format".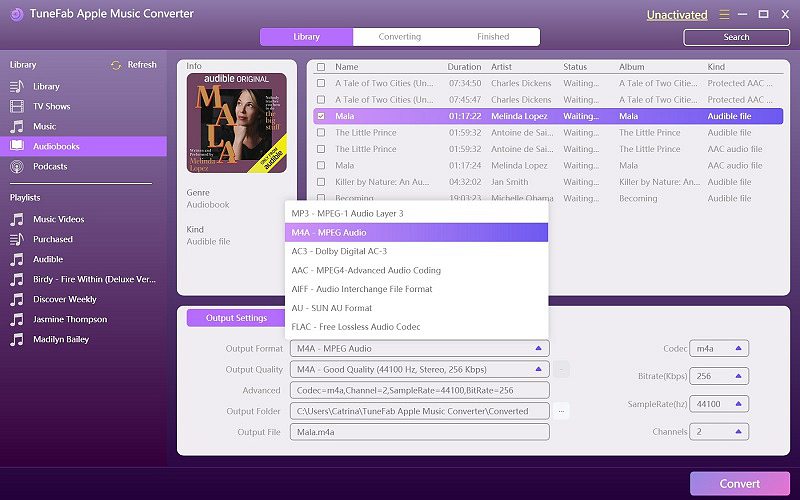 Step 4. Preferences Settings (Optional)
You might want to save the chapter information of M4B files. Go to "Preferences" and choose "General". And then, check "Metadata tags" from "Output File" to save chapter information. What's more, you are capable to adjust the audio conversion speed from 1x to 16x faster.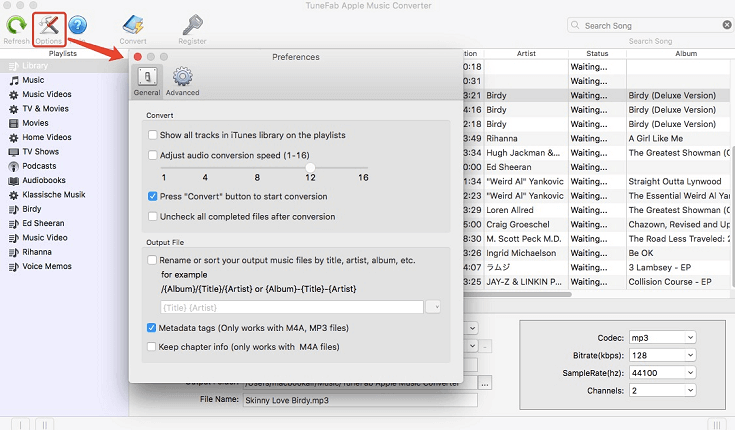 Step 5. Start Converting
After all the settings above, you can click on the "Convert" button on the menu bar. After few minutes, all M4B music files will be converted into MP3 music files.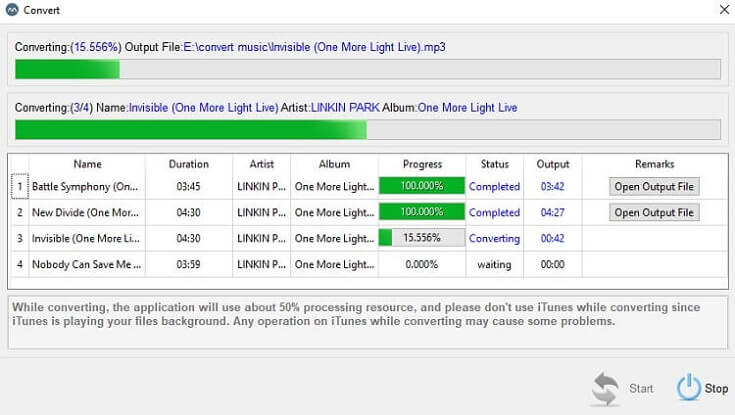 Only five steps, you are capable to enjoy your audiobooks freely. Therefore, TuneFab Apple Music Converter definitely is a good choice for you to unlock the DRM protection of M4B audiobooks. Let's download the software and enjoy the M4B to MP3 conversion.
Was this information helpful?
TrustScore 5 | 7