Downloading and transferring Deezer music to iTunes allows you to listen to your favorite tunes offline without the worries of buffering or the loss of music even if your Deezer subscription ends. You can also sync up your music libraries across multiple devices through iTunes and keep your music collection up-to-date.
Luckily, the process of transferring music from Deezer to iTunes doesn't take long. It requires just a few simple steps when you have the right tool. So, in this article, I'll show you how to convert music from Deezer through a helpful tool and transfer the music to your iTunes.
CONTENTS
Can You Directly Export Music from Deezer to iTunes?
You may be wondering if it's possible to directly transfer your Deezer music to iTunes - unfortunately, the answer is no.
Deezer and iTunes do not cooperate with each other, so there isn't a button or command that will transfer your Deezer music to iTunes right away. The only way to get Deezer music to iTunes is by downloading it and manually transferring it over. But even so, you face three main hurdles:
Firstly, you have to be a Deezer subscriber and install a Deezer app to download the music. Secondly, even if you manage to download the music, the files are encrypted with DRM (Digital Rights Management) protection, making them unreadable by other software. Last but not least, after you remove the DRM from the downloaded files, you will need to convert them into a format that iTunes supports before importing them into iTunes.
Given all the hassles, I recommend using third-party software that will get all the download, DRM removal, and format conversion done in one go. That way, you only need to upload the files to iTunes before enjoying the music on all your Apple devices.
How to Download and Sync Deezer Music to iTunes?
Since there's no direct way to transfer music from Deezer to iTunes, the simplest alternative is to download the music from Deezer and then upload it to iTunes. In this part, I'll show you how to use a third-party tool called TuneFab Deezer Music Converter to download Deezer music as MP3s and upload the downloaded MP3s to iTunes.
Simple and steady, TuneFab Deezer Music Converter is one of the best downloaders for Deezer. With just a few simple clicks on it, you can convert any music, albums, playlists, or podcasts you love into MP3/M4A/WAV/FLAC. What's even better, the files converted are DRM-free and ready to be synced and played on any media player of your choice. You don't need to worry about sound quality either because you can enjoy songs of up to 320kbps bitrate. This tool is also praised by users for its fast download speed and batch download capabilities. Get TuneFab Deezer Music Converter and rip the music on Deezer.
Key Features of TuneFab Deezer Music Converter
Reliable Audio Downloader - with the tool, you can download any music or podcasts you like on Deezer.
User-friendly Operation - all it takes is a few clicks to get the sweet melodies downloaded on your local files.
Mainstream Audio Formats - audio can be downloaded into the most popular formats such as MP3 or M4A, so you can play them on almost any device or media player.
Adaptable Quality Settings - you have great flexibility in adjusting the sound quality to match your preferences and your storage space.
Swift Download Speed - desired tracks can be selected and converted in one go, so you don't have to wait too long before listening to them.
Convert Music from Deezer to MP3
TuneFab Deezer Music Converter is not only powerful but also very easy to use. To download music using this tool, you can simply follow four steps:
Step 1. Install and log in TuneFab Deezer Music Converter
Get the converter from the link below and install it on your PC.
Launch the tool after the installation and log in to your Deezer account on its in-built web player. You will be able to download music once you log into your account.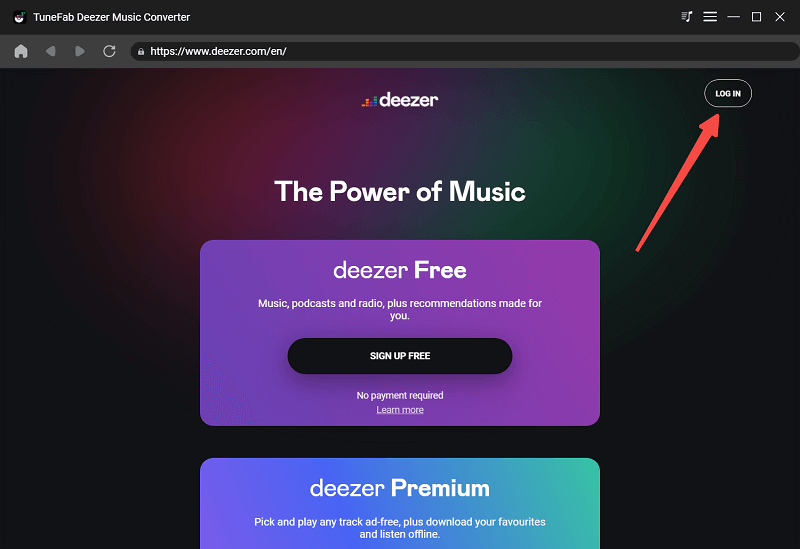 Step 2. Select Deezer Music to Download
Go to the music you would like to download. You can add them to the download list either by clicking on the green "+" button on the lower right or by dragging and dropping songs into the button.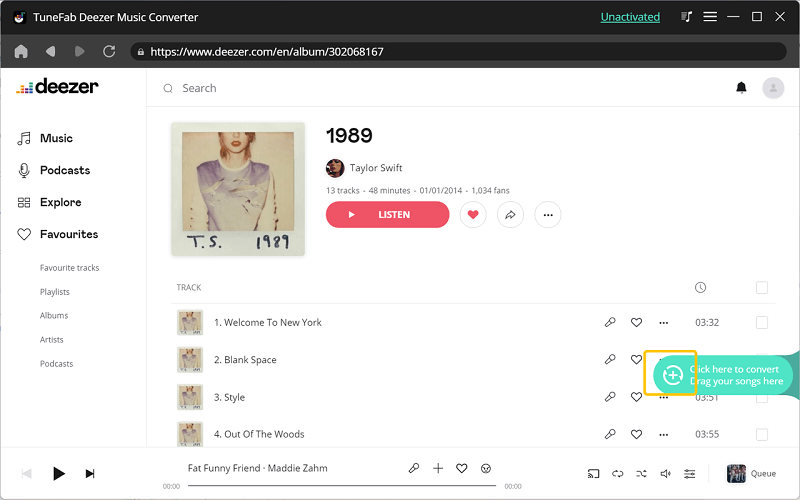 Step 3. Decide Output (Optional)
Once you select the music to download, a smaller window will pop out. You can change the output format or location before the conversion starts. The output format can be set on the upper right of the pop-up page, and the change of output location is on the lower left. MP3 is the suggested format because it is widely used and can also be uploaded directly to iTunes.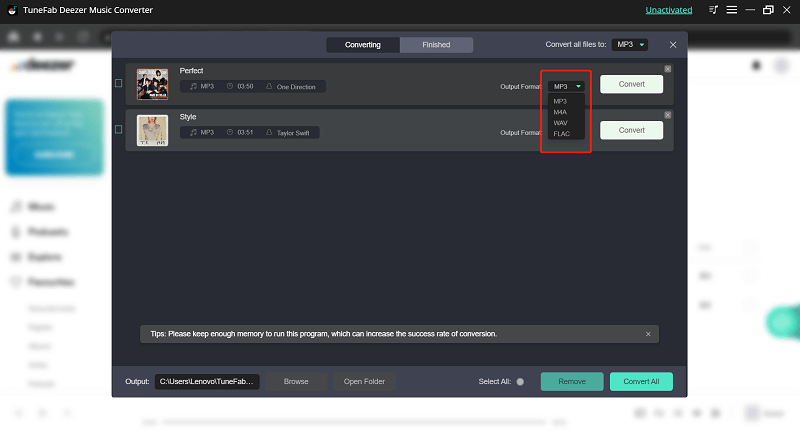 If you want to change the output sample rate or bit rate, you can navigate to the Menu (the "≡" button on the upper left of the home page) -> Preference -> Advanced. Make sure that you click on the "Save" button after choosing the desired output settings.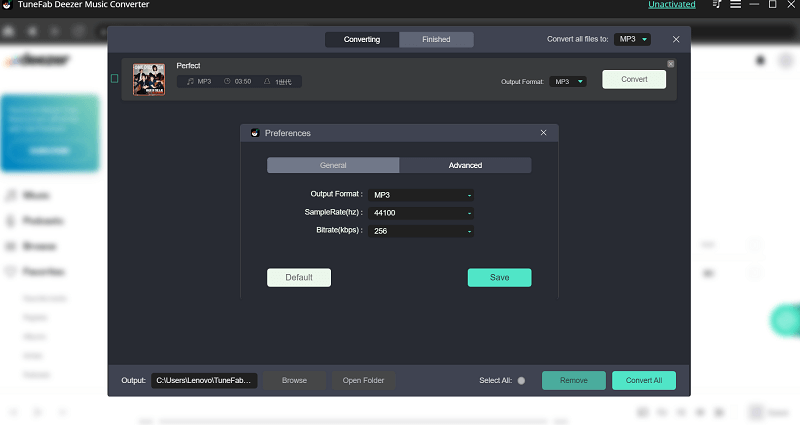 Step 4. Download Deezer Music to MP3
After setting the output, you can click on the white "Convert" button at the end of each song to download one song at a time. To convert multiple songs simultaneously, you can press the green "Convert All" button in the lower right.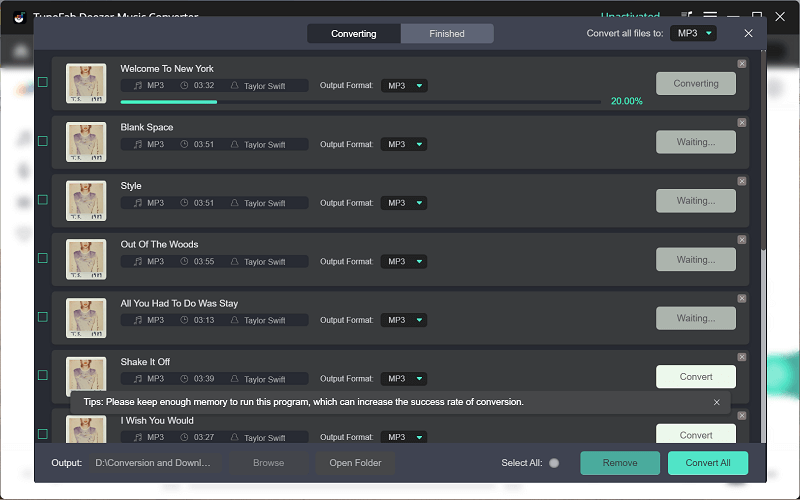 Thanks to the tool's fast processing speed, you won't need to wait too long before the download is done. You can find the downloaded MP3s on the "Finished" page.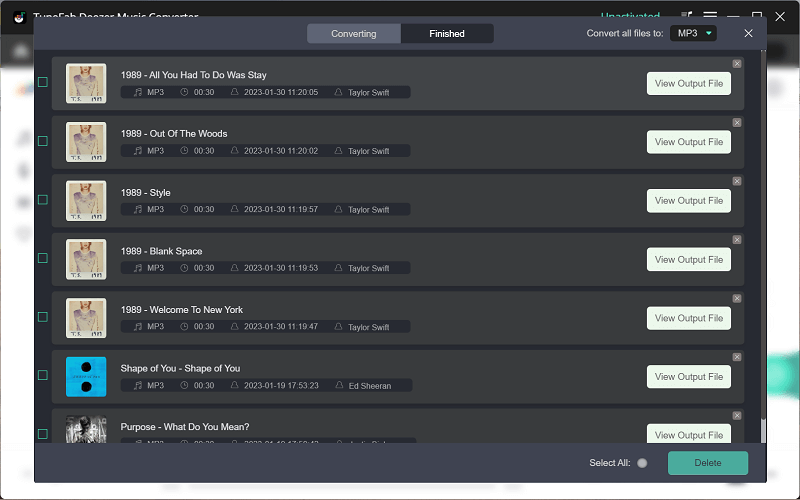 Transfer Local Deezer Music to iTunes
Now that you've downloaded Deezer music to MP3s to your local files, it's time to sync those tracks to your iTunes library. You can take two easy steps to get the job done:
Step 1. Add file (folder) to the library
Launch your iTunes on PC and select "File" -> "Add File to Library" or "Add Folder to Library".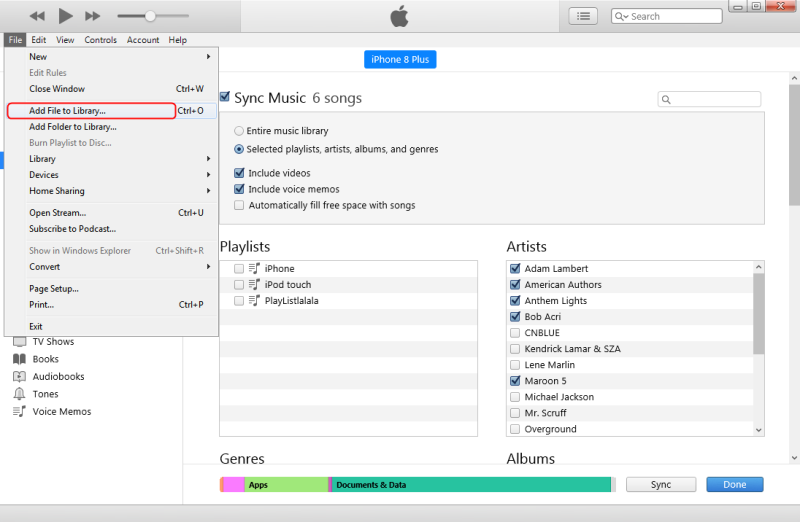 Step 2. Choose the file (folder)
After you choose to add the file/folder, a small window will pop out for you to decide which file/folder to upload. Here, you can upload the MP3s you've just downloaded with the help of the TuneFab Deezer Music Converter. You can also select a whole folder, so the songs in the folder will be uploaded all at once.
Wait for a short while, and you will find the music in your iTunes library. Now you can sync the music to your Apple devices and enjoy offline listening.
Conclusion
In short, since it's impossible to transfer Deezer music directly into iTunes, you can try a third-party tool named TuneFab Deezer Music Converter. The converter will quickly and easily download Deezer music to your local files before you upload the tracks to iTunes. The converter has been used and highly acclaimed by many users due to its simplicity in operation, support for batch downloading, availability of commonly used audio formats, and flexibility in output formats. Get TuneFab Deezer Music Converter now and enjoy music on iTunes!
Was this information helpful?
TrustScore 5 | 1