Question: Is there an Apple Music app available on Xbox One that allows you to listen to music in the background while playing games?
Answer: Xbox One supports multiple music services such as Spotify, Pandora, Soundcloud but Apple Music is not included. Therefore, it is impossible to play Apple Music on Xbox One game console with the Apple Music app.
However, it doesn't mean that you can't use Apple Music on Xbox One. In this guide, we will teach you two easy and reliable methods to play Apple Music tracks through your Xbox One console.
CONTENTS
Way 1. Play Apple Music Songs on Xbox One via USB Drive
Songs downloaded from Apple Music library are encrypted by Digital Right Management (DRM), and due to DRM restriction, you're not allowed to play those songs on devices that are not authorized by Apple, such as your Xbox One. But there's a workaround to get rid of DRM and make Apple Music songs playable Xbox One.
TuneFab Apple Music Converter is a professional tool that can let you remove DRM and convert Apple Music songs to audio formats supported by Xbox One. After that, you can transfer those songs to Xbox One via USB drive for background playback.
Steps to Convert Apple Music to Xbox One for Steaming via USB Drive
Step 1. Launch TuneFab Apple Music Converter
First of all, all you need to do is launch TuneFab Apple Music Converter on your Windows or Mac.
Tips: Before using TuneFab, please make sure that you've added the music you want to convert into Apple Music library in your iTunes or Music app. TuneFab can only show the existing songs and playlists from your Apple Music library. And you need to sign in iTunes or Music app with your Apple ID as well.
Step 2.
Select the Apple Music files
Select the Apple Music files that you want to put on Xbox One, and add them to the converting list by clicking at the checkbox.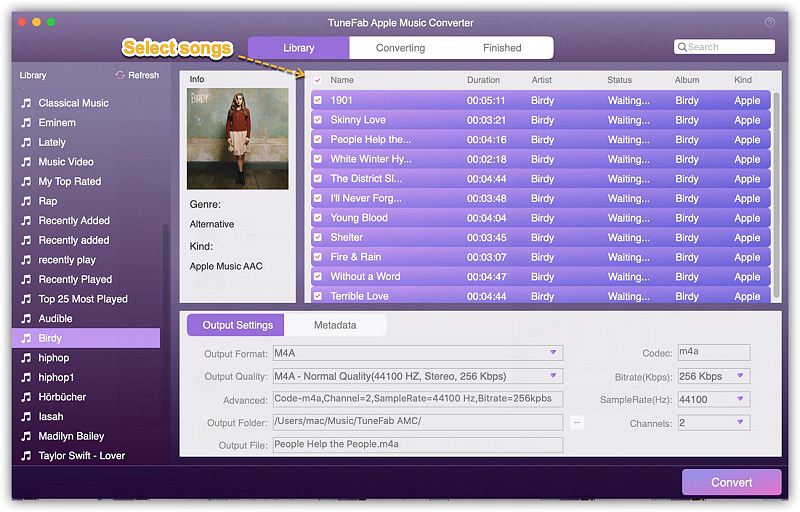 Step 3. Select the Output Format
Set the output format as MP3 because MP3 is compatible with most game console including Xbox One.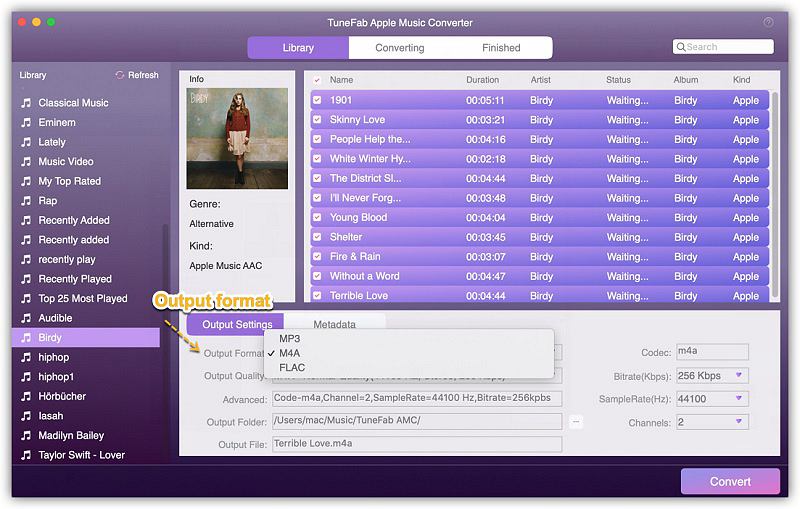 Step 4.
Start Converting
Start converting Apple Music files to common MP3 audio files by clicking at "Convert" button. Then wait for the conversion process to be done. When it's finished, click at "View Output File" to get the converted Apple Music songs and transfer the songs to your USB drive.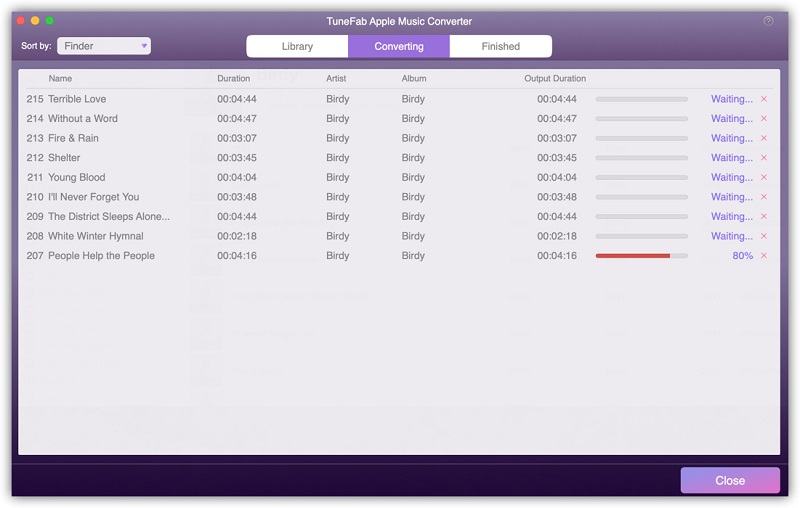 Step 5.
Stream the Converted Apple Music Songs to Xbox One
Stream the converted Apple Music songs to Xbox One using the USB drive.
Don't know how to stream Apple Music songs from USB drive to Xbox One? Don't worry, here're all the steps required, just follow them:
1. Download the Simple Background Music Player app on your Xbox One. This app supports background music playback feature in Xbox One. With this app, you can play any music you want on Xbox One from the connected USB drive.
2. Plug the USB drive into your Xbox One, and run Simple Background Music Player. When the app displays all the music files from the USB drive, you can start playing the converted Apple Music tracks in the background while gaming.
Way 2. Stream Apple Music to Xbox One using AirServer
Here we recommend the AirServer Xbox Edition, which is the screen mirroring receivers for making your Xbox One into a receiver then users can cast the favorite songs/ albums/ playlists to Xbox for game enjoying. However, it needs to install and set up on both your Xbox One and your Apple Music. So let's check how to successfully stream Apple Music on Xbox One.
Section 1. Install and Set Up AirServer on Xbox One
Step 1. Turn on Store on Xbox One and then select the Search for started.
Step 2. Search AirServer and then select the AirServer Xbox Edition.
Note: AirServer Xbox Edition is required $19.99 on Microsoft Store. Pay attention to your account is offerable or you can try a free trial.
Step 3. Turn on AirServer, you can choose purchased or have a free trial for setting up the AirServer.
Step 4. Run AirServer on Xbox One and then tap the Right and then A to get ready to display an on-screen QR code.
Section 2. Install and Set Up AirServer Connect on Your iPhone
Step 5. Search AirServer Connect on your iPhone App Store: tapping Apps Store > Search > Enter AirServer Connect
Step 6. Get AirServer and install on your iPhone with authorizing with your Touch ID or your Password.
Step 7. Launch AirServer and select the Scan QR Code.
Step 8. Turn on the Camera access authority and then scan QR code on Xbox One.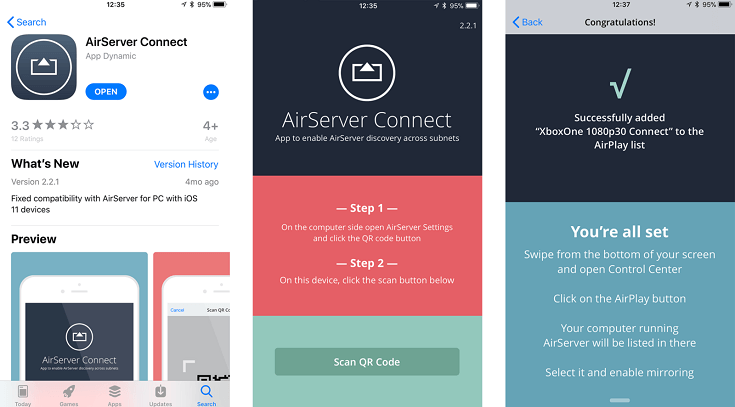 Section 3. Stream Apple Music on Xbox One with AirServer
Step 9. Tap Apple Music on your iPhone and play the music you want to play during the gameplay.
Step 10. Press AirPlay and select the XboxOne 1080p 30 from the pull-down list.
Step 11. Then you can enjoy Apple Music on Xbox One now.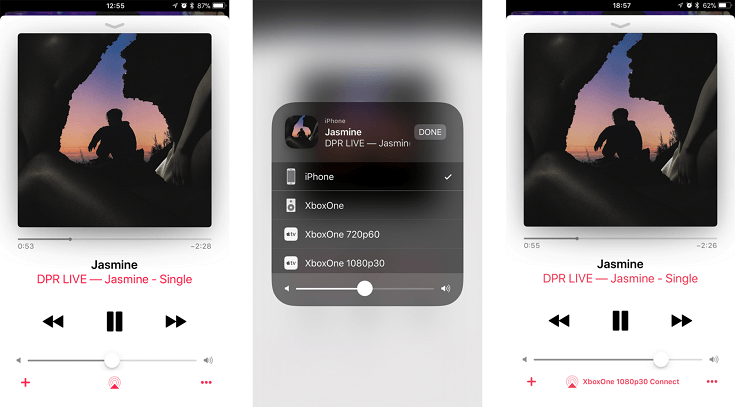 However, this way needs to connect to your iPhone which is not so convenient. For example, your iPhone will be in low power, your iPhone needs to connect with the Internet, the whole connection needed to double install and set up tools on your Xbox One and iPhone, which will consume memory for your Xbox One and iPhone, your Apps from iPhone and Xbox One needs to keep updating. There are lots of inconveniences when using AirServer for streaming Apple Music on Xbox One. So, the problem occurred.
Conclusion
There are some other methods which allow you to stream DRM-free Apple Music to Xbox One. But a premise is that you have to convert your Apple Music songs to MP3 format with the help of TuneFab Apple Music Converter. As a game lover, if you have other game consoles like Sony PS4, the above method is still available for you to play Apple Music on PS4. So, download the TuneFab Apple Music Converter now if you need to enjoy Apple Music while playing games.
Was this information helpful?
TrustScore 5 | 49