If you are a big fan of Spotify, you must notice that for these years, Spotify has launched and removed its video feature for several times. You can't play Spotify music video as for now. Let's see the past of Spotify and why the company insists on launching the Spotify music video feature and is there any solution on how to watch music videos on Spotify?
CONTENTS
Part 1. History of Spotify Video
In 2008, Spotify is launched as a music, podcast and video streaming services.
In May, 2015. Daniel Ek, CEO of Spotify, introduced a new podcasts and videos service at a media event in New York saying that the company is taking a "massive leap forward" that "goes beyond the conventional formats". "We're bringing you a deeper, richer, more immersive Spotify experience". They serve video contents as clips from well-known media partners including NBC, BBC, ABC, TED, CBS Radio and more. The new "video capsule" offers tailor video clips based on your usage history.
In October, 2017. The company keeps on searching for other ways to entertain users and booth advertising sales without involving recorded music and costly royalties. Under Matt Baxter, Spotify licensed videos from Walt Disney Co., Viacom Inc. and Vice Media Inc with more than a dozen original video series.
Part 2. Why Spotify Insists on Its Video Feature
Though as early as 2015, Spotify has thought about launching the video features and in 2017, they launch a GIF-like looping videos feature to replace static artworks as usual. It haven't made any great success very well as for now. However, Spotify never seems giving up on this, why?
1. More wonderful features can bring in more active users and subscribe users to the media streaming service.
2. Dynamic videos can encourage users to keep an eye on your phone screen rather than playing audio in their background which can, to some extent, boost their advertising sales income.
3. More business except for music can strengthen Spotify and can brighten Spotify's prospects with investors.
Part 3. Why Spotify Video is Finally Cancelled
Though the Video section is still remained in Spotify's interface, the videos in it are no long available. When you try to play the videos, opps, you will get a note saying "This song is not available. If you have the file on your computer you can import it." at the top of the interface.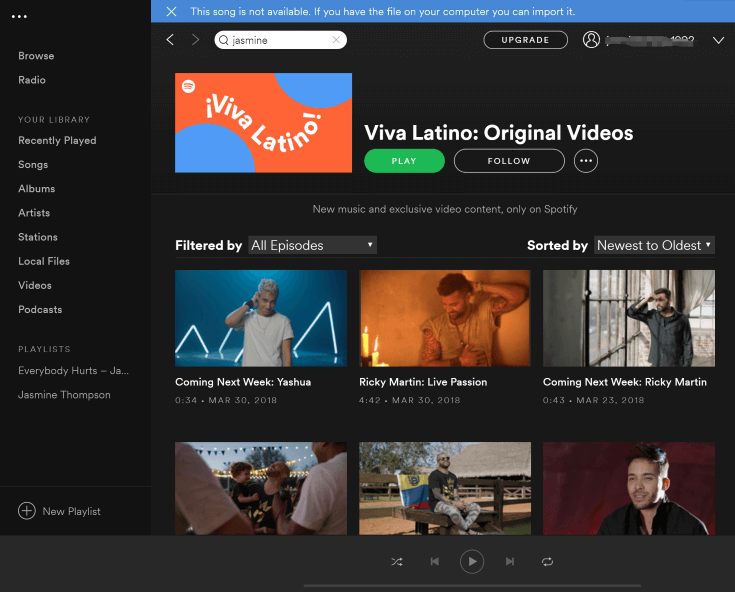 Why Spotify video features can not succeed? Why Spotify doesn't support music video?
1. Lack of promotion. It is possible that the failure of the Spotify video section fails because community marketing is not sufficient therefore many of Spotify users still are not aware of the new feature.
2. Video feature is not necessary. User's demand on playing music video is not very high. It's not an on-demand feature. What Spotify users need is to play music versatilely no matter they are working or studying. However, as for music videos, you use it when boring or when you want to check 1 or 2 latest music video of your favorite singer for around 4 minutes.
3. A strong competitor. The most powerful competitor of Spotify video feature is not other music streaming services like Apple Music, Google Play Music and more. Instead, it is YouTube, Vimeo and more video player. If you want to check the latest MV, YouTube will be absolutely a better choice because it has a huger video library.
Part 4. Conclusion
Both inner and outer factors has caused the cancellation of the Spotify music video feature. So, from my point of view, the failure of Spotify video is understandable but I believe that maybe one day they will find a breakthrough and finally make it. As a Spotify fancier, I think I will show my patient on its progress and of course, I need to do something to protect my purchased Spotify songs to prevent awkward situations like we've mentioned above when streaming the video.
Here's a bonus tips for you to make a copy of Spotify music. What you need is a computer, a Spotify account, a TuneFab Spotify Music Converter.
TuneFab Spotify Music Converter enables you to download Spotify music freely without Spotify Premium version. The steps are extremely simple, you just need to simply drag & drop your songs into the converter and convert them into MP3, M4A, WAV or FLAC as wished. To change the sound quality, you can also use the converter to custom bit rates and sample rates. There's no need to worry that titles, albums or playlists will be missing. Actually, TuneFab Spotify Music Converter can automatically save ID3 tags for you. With this powerful converter, you can play Spotify music on more and more platforms. Check this post to see the detailed steps:
Step 1. Download The Converter on Computer

Launch the program on your computer after the installation.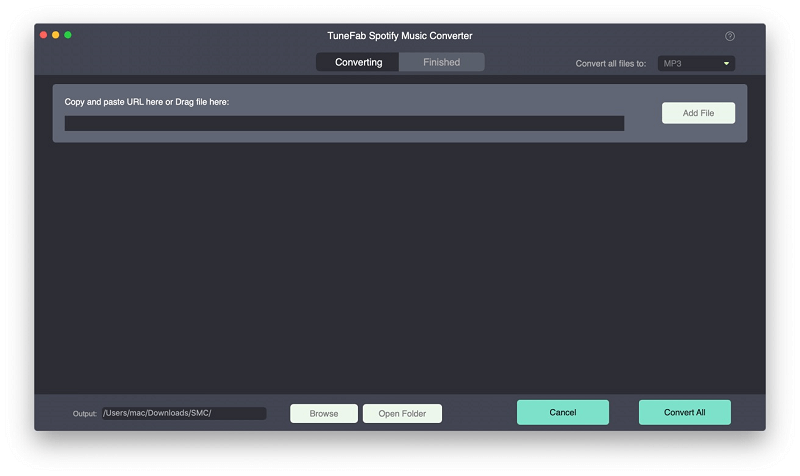 Step 2. Add and Spotify Songs to Convert
Drag and drop Spotify music for conversion from your Spotify library or computer folder.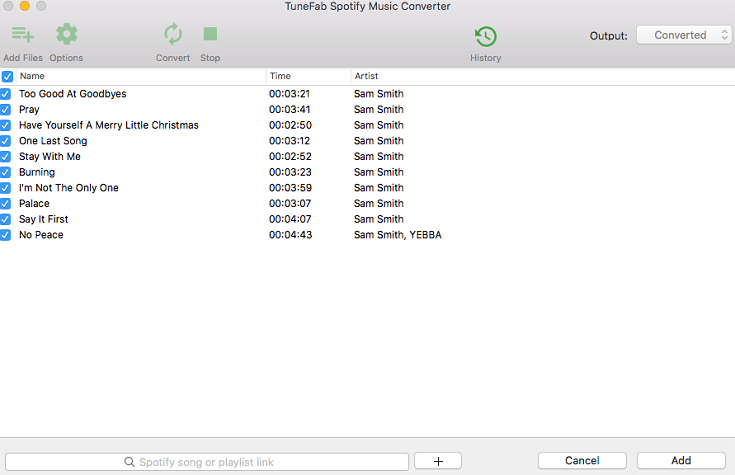 Step 3. Set MP3 as Output Format
Tap on "Option" > "Advanced" and choose "MP3" as output format.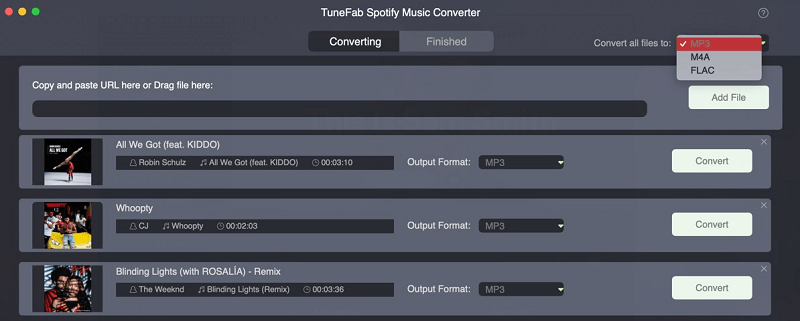 Note: I prefer MP3 because it's more popular and is supported on most devices. Of course you can also choose M4A, WAV or FLAC.
Step 4. Start Converting Spotify Songs
Click "Convert" and the process begins. Wait till the end of the service and then back up succeed.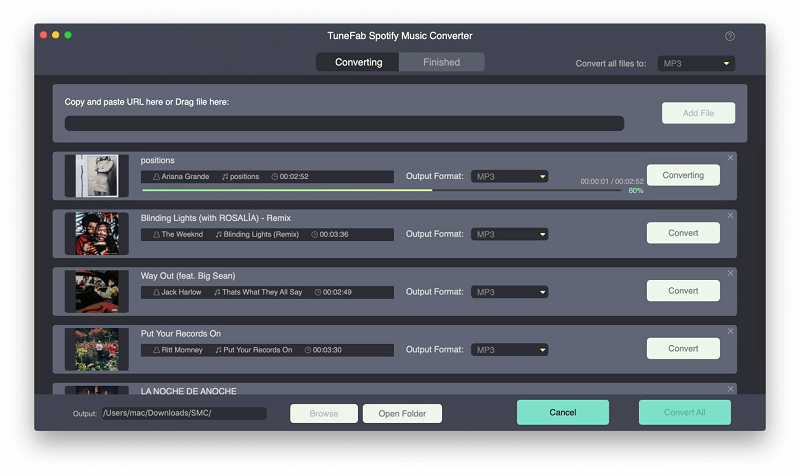 Note: To find your backed up Spotify music, you can browse and preview them by going to "Options" > "General" > "Select.." and hit on "Save".
Spotify has struggled for years on the MV playing features. Are you for it or against it? Please leave comments to share with us your opinion.
Was this information helpful?
TrustScore 2.5 | 4