HitPaw, one of the most popular multimedia solutions providers, also launched a Spotify Music Converter for users to easily convert Spotify songs and playlists to mainstream formats for offline streaming conveniently. As its product page claims, the software is able to deliver a variety of attractive features to us. Hence, to prove that HitPaw Spotify Music Converter is reliable and worthy trying, we have carefully tested the software for weeks carefully, and bring this comprehensive review for you to check before getting started with it. Now, if you also feel curious about HitPaw Spotify Music Converter, follow and check the review!
CONTENTS
Is HitPaw Spotify Music Converter Free?
Ahead of all, you should be noted that HitPaw Spotify Music Converter is not freeware at all. Although the software has provided a free trial for new users to experience how to use its functionality and convert Spotify songs, you are only permitted to try it twice - only 2 free quotas offered to process the Spotify Music download (even not a complete song but only 1/3 of the track).
Hence, under the free trial, it is more probable for users to know how exactly you are able to control the music conversion in HitPaw Spotify Music Converter, and how's the output quality of the downloaded music clips.
But still, it is possible for you to decide whether HitPaw Spotify Music Converter is easy to use and its outputs can satisfy your needs before paying to get its full license.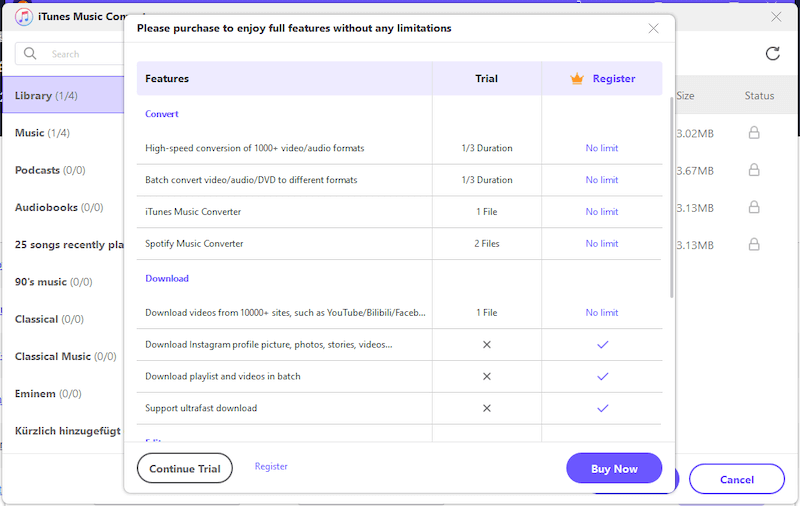 To register for HitPaw Spotify Music Converter full license, you have to pay at least US$19.95 each month to convert and download a complete Spotify song. Comparing to other professional Spotify Music Converter, its monthly subscription is more expensive.
Full Testing Results of HitPaw Spotify Music Converter
Many of you may wonder how exactly can HitPaw Spotify Music Converter work to help. So in this section, more details concluded based on our testing results will be provided as your references to grasp more knowledge about the software. Now, just keep reading.
Ease of Use
HitPaw Spotify Music Converter provides a clear interface, so grasping the usage of the software is not difficult at all. However, as HitPaw Spotify Music Converter requires to connect with Spotify app and process the music conversion, it means that you have to pre-install the official Spotify app and complete the account login in advance. After this, you are able to drag the Spotify songs, playlists, albums to HitPaw Spotify Music Converter for processing the music conversion. For sure, copying and pasting URLs is possible.
However, this method will cause a higher failure rate in processing the music analysis, because once HitPaw Spotify Music Converter is not well synced with Spotify, it will fail to recognize the songs and continue the music conversion for you. Also, as the computer has to run two platforms simultaneously, the performance of your computer would greatly be dragged down unexpectedly.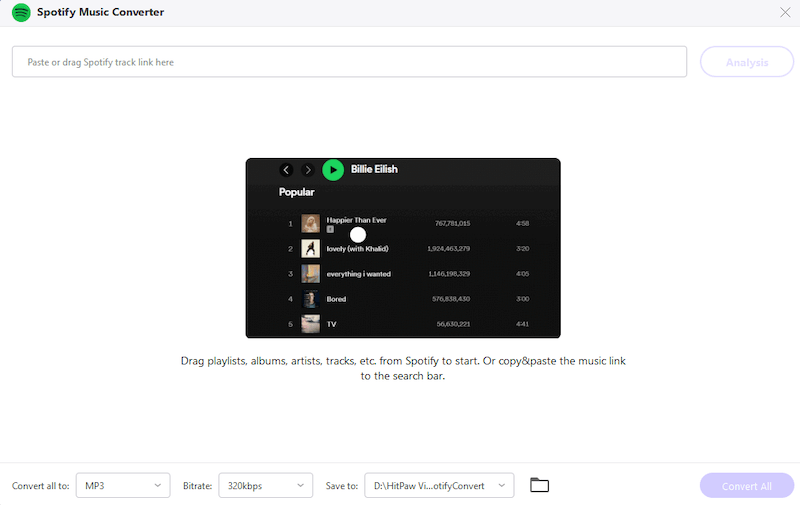 Sound Quality
As for the output quality, HitPaw Spotify Music Converter has offered 3 options for selecting - 256kbps, 320kbps, and the original (128kbps). We have tested tens of songs using the software, finding that the output quality is good for streaming with common media players. But comparing with the Spotify Premium music quality, you can still sense that the output music effect has been compressed a bit, can't reach "original" as how HitPaw Spotify Music Converter claims.
Output Format
To make music playback available to be processed across devices and media players, HitPaw Spotify Music Converter provides 3 mainstream formats, including MP3, M4A, and WAV for users to select. Although compared with many other professional Spotify Music Converter that can offer more than 3 formats, it can still meet a large amount of users' demands and enjoy Spotify Music playback offline conveniently.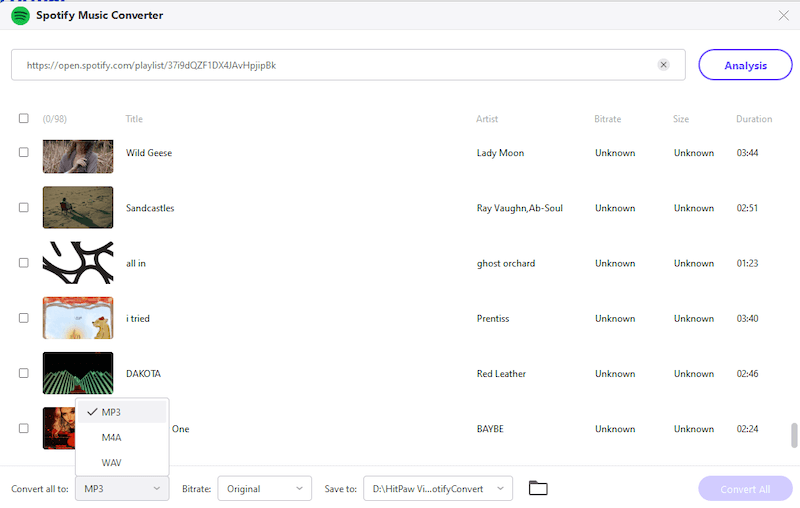 Download Speed
For the download speed of HitPaw Spotify Music Converter, we also tested it under different network condition. In most cases, when the device is connected with a stable network, HitPaw Spotify Music Converter can speed up the conversion to 3X or 4X faster than the original music duration. Although the "120X faster" feature provided on its product page is not actually fit the fact, the download speed of HitPaw Spotify Music Converter is still ideal, and it is possible to process batch download for you.
Overview of HitPaw Spotify Music Converter Review
Only available on Windows, HitPaw Spotify Music Converter offers standard help to download and convert Spotify songs to mainstream audio formats, including MP3, WAV, and M4A to help you have more convenient offline music streaming experience. According to the users who have tried HitPaw Spotify Music Converter, there are some negative reviews that most of them would report on the software. To conclude, the pros and cons of the software can be concluded as follows:
Pros:
● Clear interface for beginners to get started;
● Workable to download Spotify Music and convert to plain formats;
● ID3 saving for all downloaded Spotify songs;
● All-in-one software to convert local media files, iTunes Music, and DVD as well.

Cons:
● Extremely slow performance (completely not as how it claims);
● No reply from the support help;
● Too expensive and the trial is useless;
● Not refundable;
● There's no Spotify music conversion function for macOS.

Best Alternative to HitPaw Spotify Music Converter
Compared with HitPaw Spotify Music Converter, which actually embeds such a function inside one video converter, TuneFab Spotify Music Converter is specially designed with the professional feature to you. Hence, by comparison, TuneFab Spotify Music Converter can bring more professional help to let you convert Spiffy Music without hassle. Here are some of its highlighted features:
● Built-in Spotify web player provided to directly drag-and-drop all content to download;
● No Spotify app installation required;
● Mainstream formats such as MP3, M4A, WAV, and FLAC formats supported;
● 5X and even higher batch conversion speed available;
● ID3 info preservation available to save Spotify playlists offline for easier management;
● Unlimited music downloads during the free trial period;
● Affordable pricing;
● Responsive customer support.

The following brief guide will also show you how easy it would be to download Spotify Music content via TuneFab Spotify Music Converter just by several easy clicks:
STEP 1. After installing TuneFab Spotify Music Converter, launch the software and give one click to enter the built-in Spotify web player. You only need to it the "LOG IN" icon and authorize the software using your account.
NOTE: No premium account is required.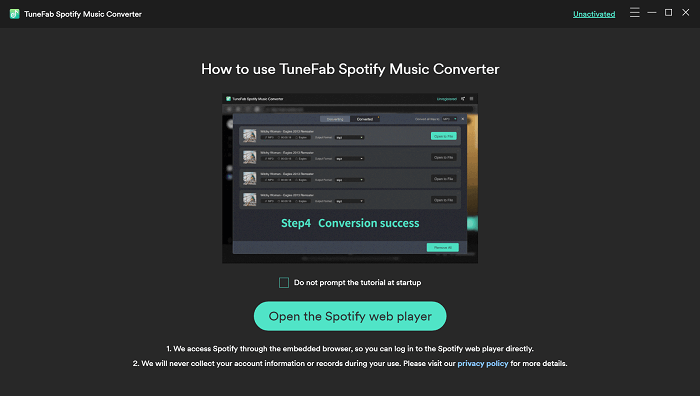 STEP 2. Browse the music library and access the Spotify singles, playlists, or podcasts you desire to download. Simply drag to the "+" icon to complete importing the tracks to the conversion queue.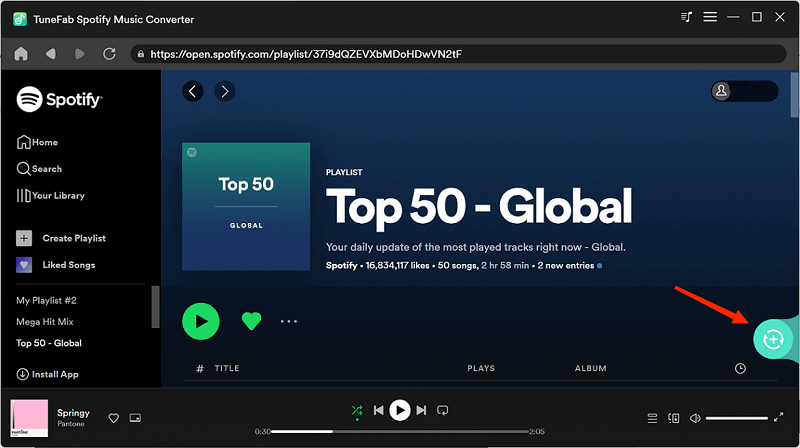 STEP 3. Next, select an output format from the "Convert all files to" drop-down menu. Or you are able to choose for each song separately accordingly.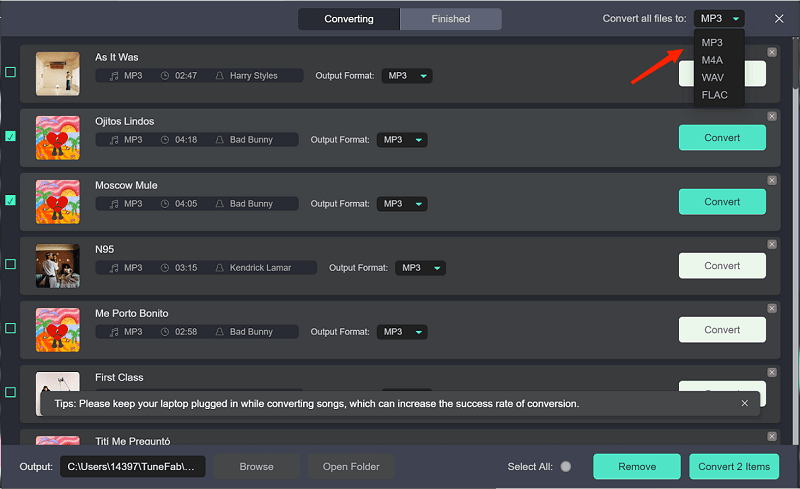 (Optional) STEP 4. Navigate to "Menu" > "Preferences" > "Advanced" on the upper-right of the interface, you are able to adjust the output quality by customizing the sample rate as well as bitrate settings based on your demands.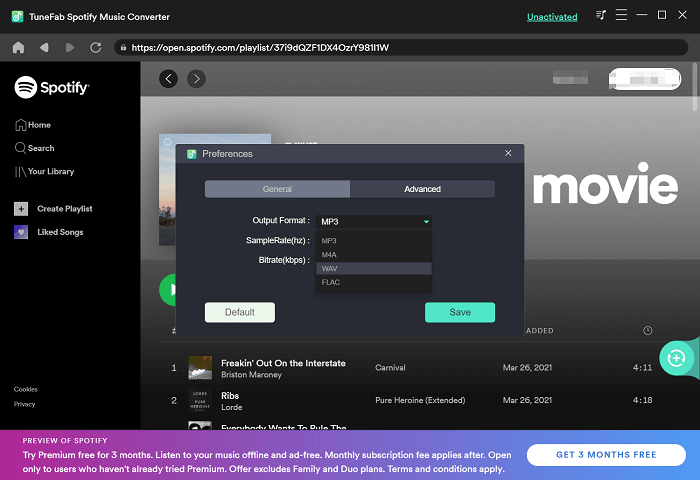 STEP 5. Finally, give a go by hitting the "Convert All" icon. Then, TuneFab Spotify Music Converter will process the batch download for you via its fast conversion speed. Just wait for a moment till the download completes, then you are able to enjoy the music streaming offline for transfer Spotify songs to any device for playback without limitations!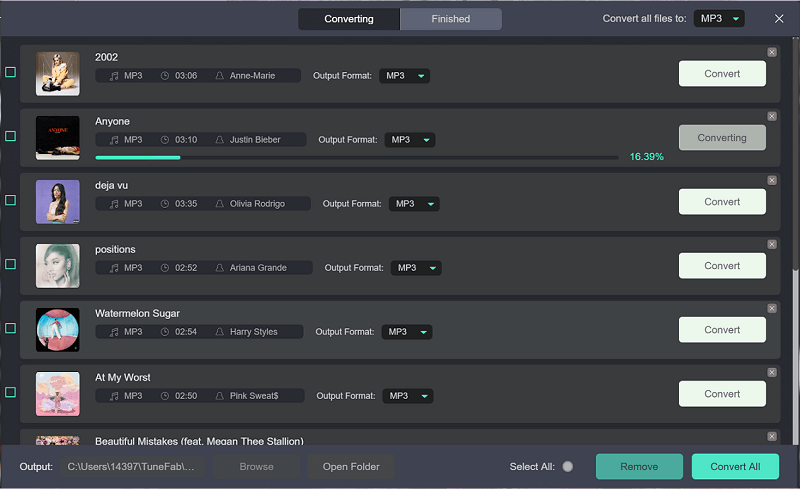 Conclusion
To draw a conclusion, HitPaw Spotify Music Converter is actually embedding the Spotify conversion function to a bulk video converter software. Hence, compared with other professional tool like TuneFab Spotify Music Converter, it does perform in a less reliable way.
But if you desire to have all-in-one conversion feature such as converting local media files, HitPaw Spotify Music Converter still an ideal software for you. So, if you just want a professional Spotify Music converter with higher success rate and better download quality, TuneFab Spotify Music Converter is more superior to try!
Was this information helpful?
TrustScore 3 | 4