It would be more convenient to enjoy Spotify songs and podcasts by knowing the way to change Spotify playback speed because in that way people can control the playback more flexibly as they need. Especially when people are listening to podcasts on Spotify, sometimes when the speakers are speaking in a slow way, speeding up the podcast playback could save much time.
So, in the following parts of the article, there will be solutions provided for those who still don't know the exact ways to speed up Spotify playback. If you also need this feature to make your Spotify songs and podcasts playback to be fully in your control, now you can have a look.
CONTENTS
1. Can You Speed Up Songs on Spotify?
At present, speeding up music playback is not a common feature provided on online music streaming platforms, even those popular ones such as Spotify. No matter whether you are using the Spotify software or its web player to stream Spotify songs, it provides no direct function to let you adjust the playback speed.
However, for Spotify podcasts, which are commonly longer than a song and also contain much content, Spotify provides the speed-changing function to let people adjust their playback speed from 0.5X to 3.5X freely. But remember that this feature is only provided within Spotify software and app, but not in Spotify Web Player.
If you are accustomed to using Spotify Web Player for enjoying Spotify songs or podcasts playback, then the Spotify Playback Speed can be helpful. By installing this Chrome extension, people can also make it possible to change Spotify playback speed in its web player too. But a problem is, that this extension hasn't been updated by its developer since October 8, 2019, so there may be many sudden errors happening while you use it to adjust Spotify's playback speed, even without the support team to help solve the problems.
In conclusion, it is obvious that Spotify makes it impossible to change the speed of Spotify songs' playback, but for Spotify podcasts, you need to use Spotify software or an app to access this function. After knowing these facts, do you still want to find out a way to make Spotify slow down and speed up easily without limitations? You still have a method to do it.
2. How to Change Playback Speed for Spotify (Songs and Podcasts)
As we know, Spotify doesn't provide the direct function to let us change the playback speed of Spotify songs on its platforms, including the web player, software for computers, and its app on smartphones. So why not find a way to download Spotify Music offline to change the playback speed using other tools outside Spotify? Actually, you only need three things to get it done easily!
What You Need to Change Playback Speed Spotify
● TuneFab Spotify Music Converter – Download Spotify songs to MP3
● A Mac/Windows computer with an Internet connection
● A Song Speed Changer/Player
TuneFab Spotify Music Converter is the most important tool we need to use for making Spotify playback speed changing possible. It can directly connect to Spotify Web Player inside the software, then lets people have the way to download Spotify playlists and podcasts very easily.
When the Spotify songs are downloaded with the common audio formats provided by TuneFab Spotify Music Converter, people can use the speed changer to change their playback speed, or directly add the songs to any players that supporting to slow down or speed up the music playback directly while playing the music files.
Key Features of this tool:
● Provides all common formats such as MP3, M4A, WAV, or FLAV to download Spotify songs and podcasts
● Keeps the best 320kbps quality while downloading Spotify Music offline
● Saves all the ID3 and metadata information for Spotify Music to make it easy to manage the converted files
● Supports 5X faster speed to download Spotify Music and podcasts
● Offers the in-built Spotify Web Player to make it simpler in downloading any songs or podcasts from Spotify
Section 1. Steps to Download Spotify Songs or Podcasts Offline
Step 1. Open TuneFab Spotify Music Converter and Sign in
When you have installed TuneFab Spotify Music Converter, you should open the software on your Windows/Mac computer and click the "Open the Spotify web player" button to enter the in-built Spotify Web Player. Then press the "LOG IN" button to sign in with your own Spotify account.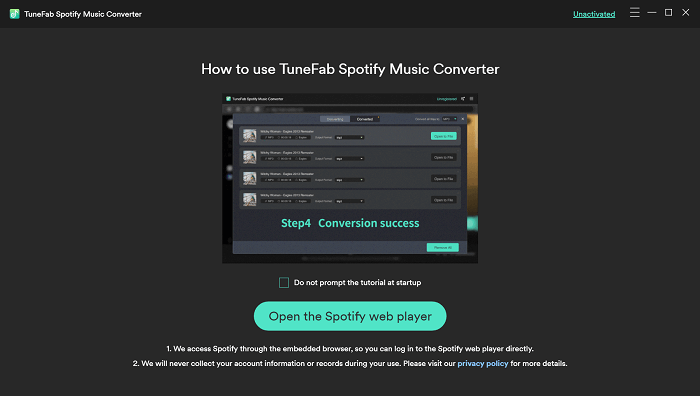 Step 2. Add Spotify Songs and Podcasts to Download
After signing in to the Spotify Web Player, you can find the Spotify songs or podcasts you want to download offline and change their playback speed. Then directly add them to the "+" button.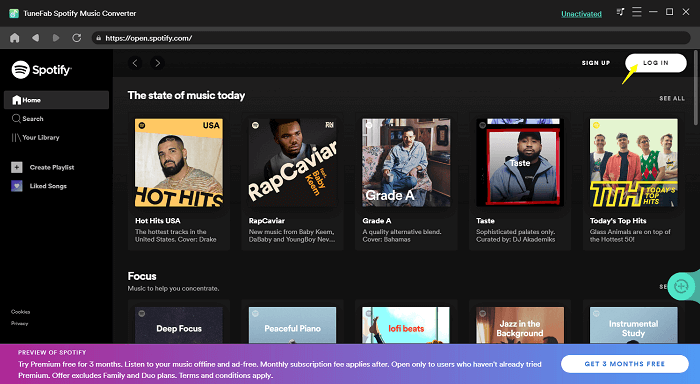 Step 3. Choose Output Format to Download
When the Spotify songs and podcasts are added to convert, you can go to the "Convert all files to" menu and select an output format from the four options, including MP3, M4A, WAV, and FLAC to download them.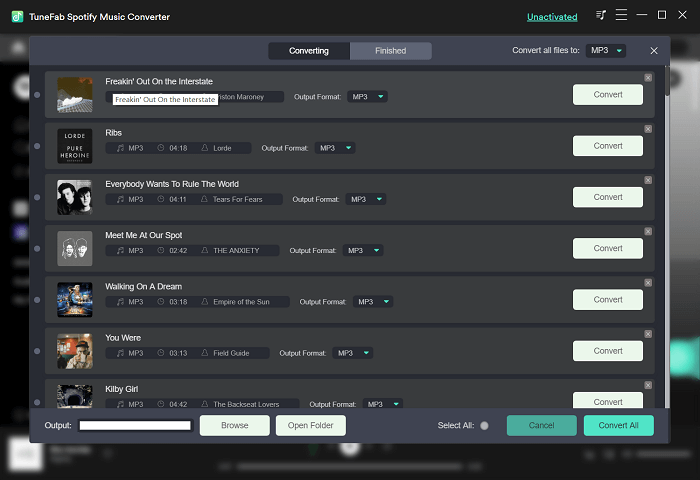 If you also want to adjust the "Sample Rate" and "Bitrate" of the songs or podcasts, you can go to "Preferences" to select your needed options.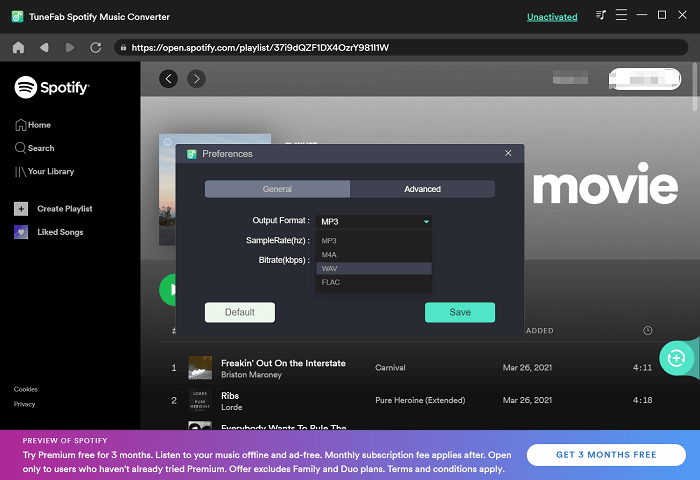 Step 4. Start Downloading Spotify Songs and Podcasts
Finally, just press the "Convert All" button to download all the Spotify songs and podcasts offline. When TuneFab Spotify Music Converter finishes the download, you can move them to the speed changers or players supporting changing the playback speed to edit or directly enjoy the songs and podcasts.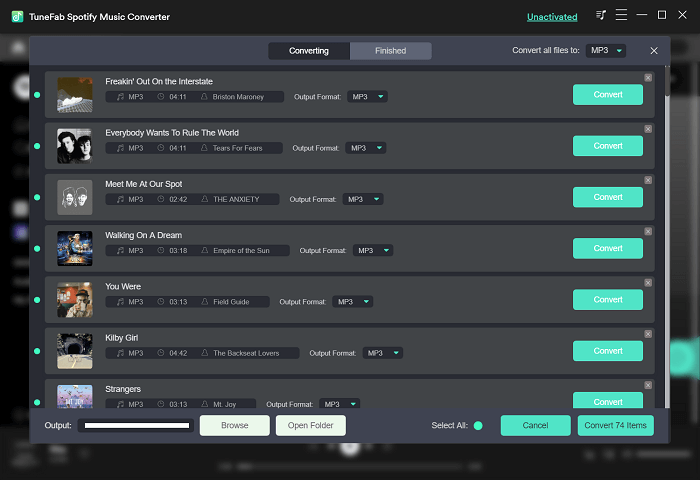 Section 2. Change Spotify Playback Speed
For playing the downloaded Spotify songs and podcasts with their playback speed changed, VLC is a good choice you should not miss. It supports streaming almost all popular audio files, so that you can try it to play Spotify songs and podcasts with speed changed at any time you need.
Except for VLC, another recommended tool you can try to change the playback speed of the downloaded Spotify songs and podcasts is 123Apps. Its online "Change Audio Speed" tool allows people to directly increase or decrease the playback speed of the local audio files without installing any software. The downloaded music files will even keep their original ID3 information by default! Here will introduce you to the way to use the tool.
Step 1 When you have downloaded the Spotify songs or podcasts as offline music files saved on your computer, go to 123Apps Change Audio Speed online tool and click the "Open file" button to upload the files to it.

Step 2 When you have edited the playback speed of the Spotify audio files online, download them to a folder offline.
Step 3 Then open Spotify on the computer. Now you need to click your profile name and select "Settings". Under the "Local Files" section, click the "Add a source" button to import the folder where you save the Spotify Music with the speed changed.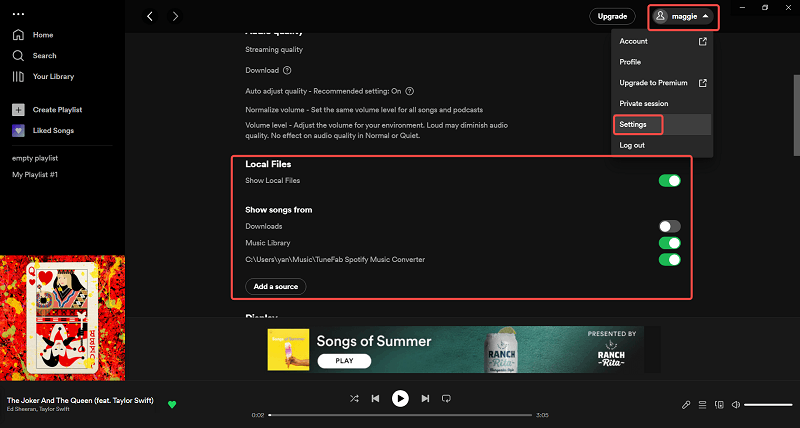 Step 4 After the Spotify songs and podcasts are added back to Spotify software again, you can find them in "Your Library", where will create a "Local Files" playlist with all the speed-changed songs and podcasts here. Then you can play them directly.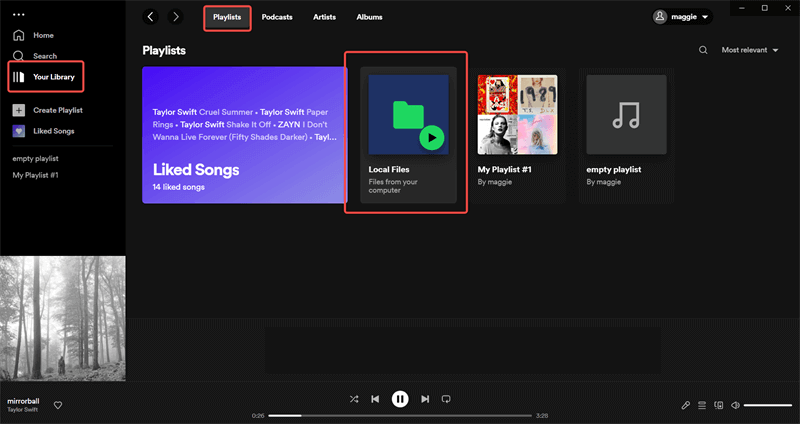 Tip: Because both TuneFab Spotify Music Converter and 123Apps will keep the ID3 information of the songs, so you can still see the original music tags of the songs and podcasts in Spotify software while playing them.
3. How to Slow Down/Speed Up Podcast on Spotify
For Spotify podcasts, the official has received some reports that users are not satisfied with the speaking speed of the uploaders, for example, they may consider the podcasts playing too fast or slow, which makes them hard to understand.
As a result, Spotify has provided the official function to solve this problem with the in-built speed-changing button for podcasts. People can directly find the speed-changing icon on the playback bar to adjust the podcast playing speed as they need very conveniently.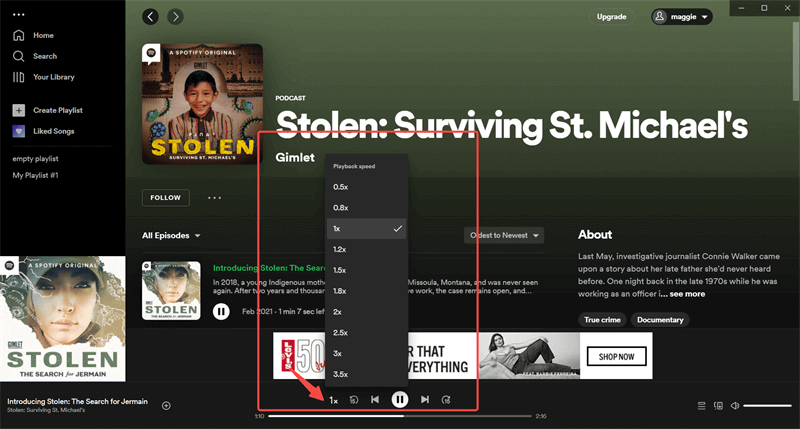 In Conclusion
When more and more people are turning to Spotify to enjoy music and podcasts, the need for playback speed change is also increasing. As Spotify has only provided the function for podcasts inside the platform, only using TuneFab Spotify Music Converter can help speed up or slow down the playback of Spotify songs as people want.
So at present, if you want to change the playback speed of any Spotify songs or podcasts from the web player, TuneFab Spotify Music Converter is recommended to help.
Was this information helpful?
TrustScore 1.8 | 37