Pandora is an amazing app that provides abundant music sources. When you are listening to music from Pandora, you may want to stream music through third-party device to perfect your listening experience. Using Amazon Alexa, you will be able to play Pandora music through smart devices more conveniently. Now just follow our instructions below, and learn how to connect Pandora to Alexa.
CONTENTS
How to Connect Pandora to Alexa
There are several ways for you to connect Pandora to Alexa. Usually, you can finish the connection via either Alexa or Pandora. In the following paragraphs, we will show you the connection steps in detail.
Link Pandora to Alexa from the Alexa App
To connect Pandora to Alexa, you need to download the Alexa app and Pandora app first. And then you have to sign up accounts to continue linking these two to play music.
You can operate the connections on both Alexa and Pandora. If you are going to link Pandora to Alexa from Alexa, please read the following steps:
Step 1. Open the Alexa app, tab "More" > "Skills & Games."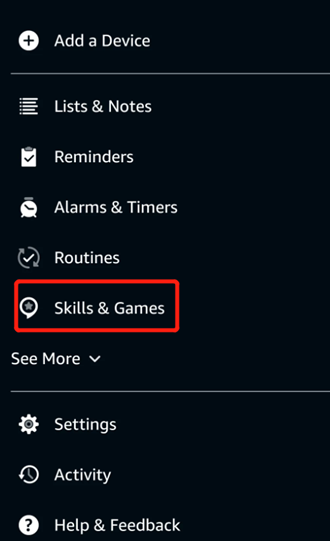 Step 2. After entering the "Skills & Games" page, tap the "Search" icon and input "Pandora" to go to its skill page. Then, tap "ENABLE TO USE."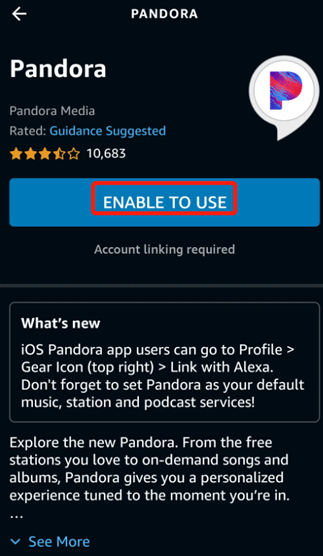 Step 3. Next, log into your Pandora account and tap Link Now.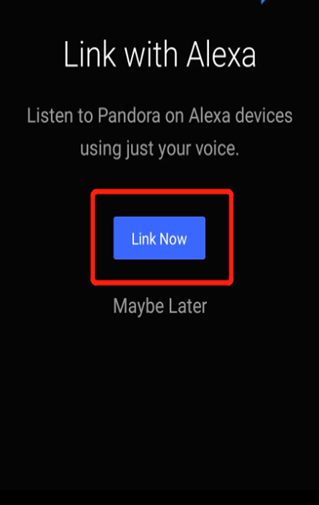 Now you can play Pandora's music through Alexa, and enjoy listening on any Amazon smart device.
Link Pandora to Alexa from the Pandora App
Though setting connection on Alexa is quite simple, some of you might be more familiar with Pandora and want to link Alexa on Pandora. In this situation, you can try to start linking on Pandora app, and this method works on both iOS and Android. Just continue to read this article and learn the method.
On iOS
Step 1. Open Pandora app on your iOS device, tap on the Profile icon to enter the setting menu, and then find "Link with Alexa."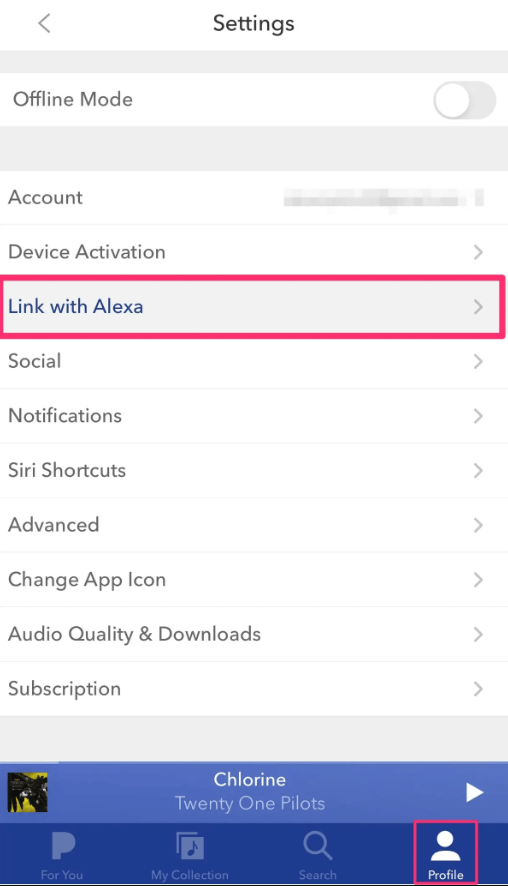 Step 2. Tap "Start Linking" to continue the process. If you have logged into your Amazon account, just tap "Allow" to enable Pandora to connect with Alexa.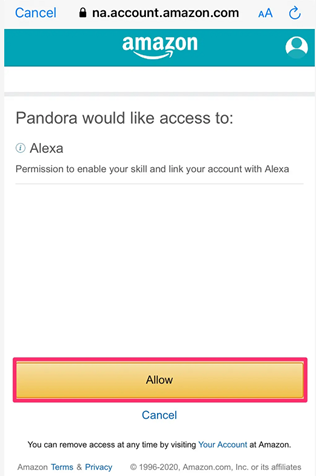 Step 3.  After that, open Alexa and change your defaults for "Music" and "artist and genre stations" to Pandora.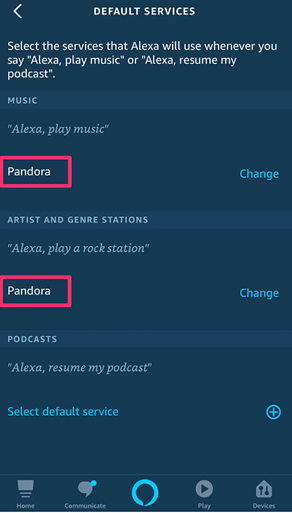 On Android
For Android users, the linking method is quite similar to the method for iOS users.
Step 1. Open Pandora on Android device, find the "Profile" icon and then tap on it to enter the setting page.
Step 2. Tap "Alexa" option on the setting page, and the select "Link with Alexa."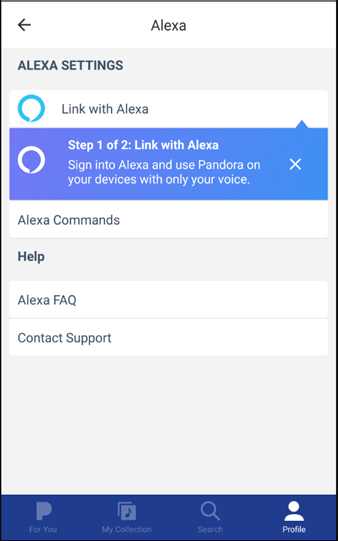 Step 3. Enter you Amazon account information and change your defaults to Pandora. Now the status shows "Linked." You have finished connecting Pandora to Alexa.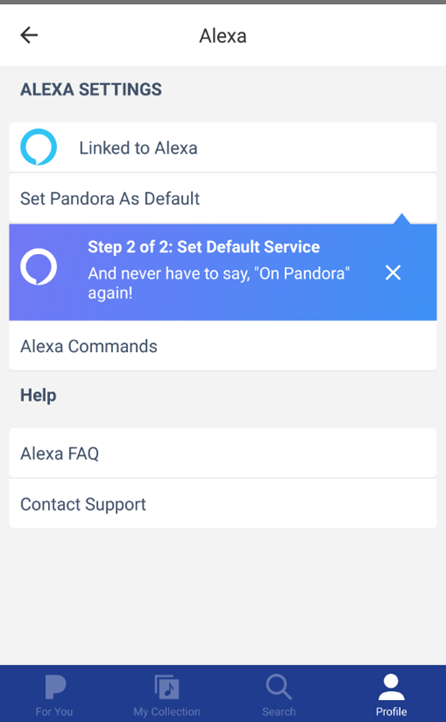 How to Play Pandora on Alexa
Once you have finished the steps above, you can set up for playing Pandora music on Alexa anytime. Usually, you can set Pandora as default music on Alexa, and use Alexa commands to play Pandora. We will give you details about how to do it in the following parts.
Set Pandora as Default Music on Alexa
Step 1. Open Alexa on your device, click the "Menu" icon on the top left corner, and then choose "Setting."
Step 2. Find "Alexa Preferences," and then select "Music."
Step 3. Next, find "Default Services" and tap on it. From the upcoming window, you can find "Default Station," tap this option and select "Pandora."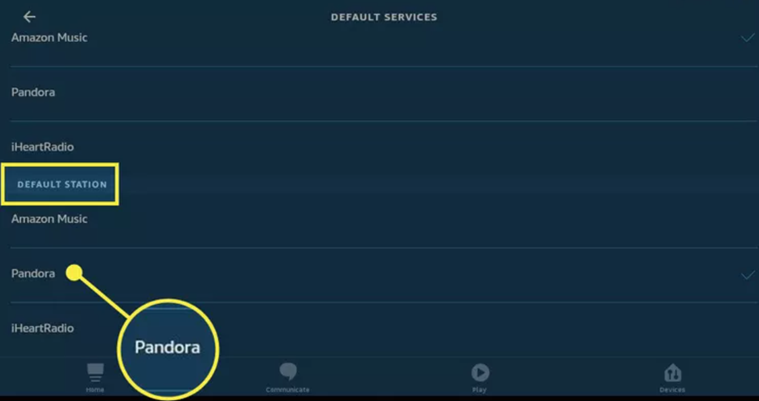 Use Alexa Commands to Play Pandora
For those who want to have simpler ways to play Pandora on Alexa, we now introduce some Alexa commands for you to achieve your music listening goal.
Alexa is a smart program for using voice command to make music playing more convenient.
Here are the commands that you can use to direct playing Pandora music:
● Alexa, pause.
● Alexa, play. / Alexa, Play music on Pandora.
● Alexa, stop. / Alexa, Stop Play music on Pandora.
● Alexa, skip. / Alexa, skip this song.
● Alexa, volume up.
● Alexa, volume down.
● Alexa, what song is this? / Alexa, what is playing?
● Alexa, Thumb Up this song
Make sure your commands are concise enough to lead Alexa to conduct your order, or you will not be able to play music on Alexa.
FAQs about Playing Pandora on Alexa
How to Get Alexa to Play Shuffle on Pandora?
Sometimes you may not figure out the right command to let Alexa carry out the movement. For instance, when you want to play shuffle on Pandora, firstly you need to set Pandora as the first option for music playing, and then say the correct command "Alexa, play shuffle."  Remember that if your commands are too long or too complex, Alexa fails to recognize your commands.
Why Won't Alexa Play Pandora Music?
Due to the technical problems of the apps or network problems, Alexa fails to play Pandora music. If you encounter these problems, you can try solutions below.
1. Check the updates statues. Download the latest versions of Alexa or Pandora, and try playing the music again.
2. Connect your mobile device to the same Wi-Fi network as your Amazon device.
3. If it still doesn't work, try to unplug the power of your Amazon device, and plug it back few minutes later.
4. Turn off the IPV6 of the Wi-Fi routers.
In addition to the above solutions, you can also ask for help from a music converting tool. TuneFab Pandora Music Converter is a perfect tool for you to convert Pandora music to any format that fits with different devices. Using this converter, you can play Pandora music through Alexa in an easy way and enjoy your music without worries.
Conclusion
We have provided comprehensive instructions on how to play Pandora music on Alexa. You can try to link Pandora with Alexa, and use the voice commands to achieve the music playing.
When you have trouble in playing shuffles on Pandora, or can't get Alexa to play music, there are also various solutions for you. Now you can do what we have said in this article, to enjoy your music through Alexa!
Was this information helpful?
TrustScore 5 | 49