Compared to streaming Pandora podcasts online, downloading podcasts is certainly a better choice for a smooth and convenient listening experience, especially when you often listen to Pandora talk shows in some places that have awful WiFi connections. But when you try to download them on your MP3, it turns out that you can't. This is because Pandora only allows paid subscribers to download its podcasts on smartphones. Even so, it is rather time-consuming and troublesome since you have to download episodes of a podcast one by one.
So what if you want to listen to Pandora talk radio stations on MP3 or download the best podcasts on Pandora without so many troubles? Don't worry! Today we will show you how to save podcasts from Pandora to MP3 in a few steps with the help of a powerful application.
CONTENTS
Download Pandora Podcast to MP3 with Professional Tool
To download Pandora podcasts easily and keep downloads on your MP3 permanently, you can use TuneFab Pandora Music Converter to download them in a few clicks.
TuneFab Pandora Music Converter is a professional tool capable of converting Pandora podcasts to MP3 format with superior audio quality so that you can enjoy them on your other devices forever. With its advanced technology, TuneFab saves you lots of time by adding multiple podcasts to the converting list at once and converting them at up to 10X faster conversion speed. In addition to helping you access podcasts on Pandora, TuneFab is able to rip Pandora songs, albums, and playlists with high audio quality.
Features of TuneFab Pandora Music Converter
● Provides Convenient Download - TuneFab enables you to add all episodes of a podcast to the converting list in one click, making podcast downloads convenient and fast.
● Supports 10X Faster Conversion Speed - With TuneFab's speedy performance, it only takes one-tenth of the length of an episode to convert it, delivering an efficient downloading process.
● Convert podcasts to MP3/M4A/WAV/FLAC format - TuneFab converts Pandora songs and podcasts to common formats which are nearly compatible with every device and player while ensuring high-quality sound close to CD.
● Offers Superior Audio Quality - TuneFab enables you to customize the bit rate and sample rate to provide you with superb audio quality higher than the original audio file.
● Provides built-in Pandora web player - With the built-in Pandora web player, TuneFab allows you to search and convert podcasts easily.
Now that you've known the powerful functions of TuneFab Pandora Music Converter, let's start downloading Pandora podcasts with TuneFab by following the steps.
Step 1. Open the TuneFab Pandora Music Converter
Start with downloading the TuneFab Pandora Music Converter on your computer. You can download it for free from its official website or your app store. Then, launch the software.
Step 2. Add podcasts to the Converting List
After the main interface appears, click Open the Pandora web player. Log into your Pandora account on the Pandora web player to access various Pandora podcasts. Choose a podcast you want to download. Click the "+" button on the right side of the interface to add all the episodes to the converting list. Or drag and drop one episode onto the button.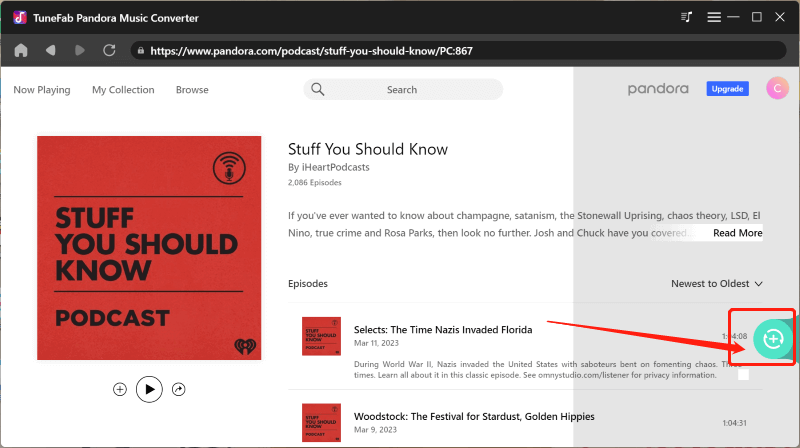 Step 3. Customize the Parameters of the Output Files
To set advanced preferences, click the ≡ icon at the upper right corner of the main page. Choose Preference from the drop-down list. Click Advanced in the Preference window to customize the output format, sample rate, and bit rate.
Here, you can set MP3 as the output format for its high compatibility with common devices and players, or WAV if you prefer superior audio quality. For the other two parameters, you can either stick with the default settings or set them as you like. Afterward, click Save.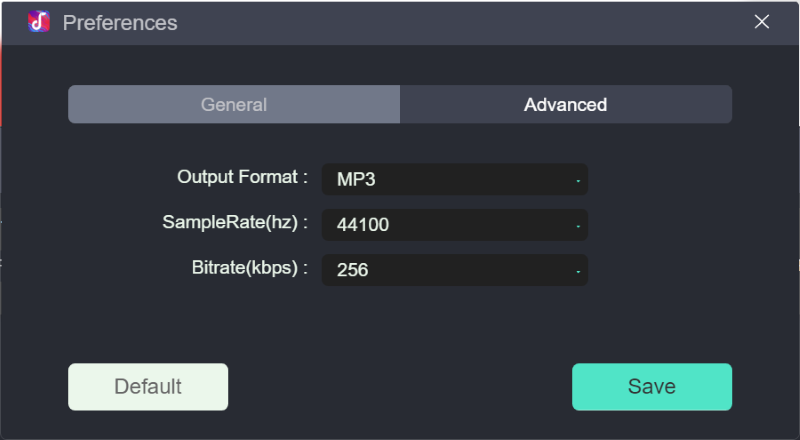 To set the output format for each podcast, click the first icon of the main menu bar in the top-right corner. Next to each podcast, there will be an Output Format button for you to set the format individually.
In the bottom left of the interface, you can choose the destination folder where the converted podcasts will be stored after the conversion.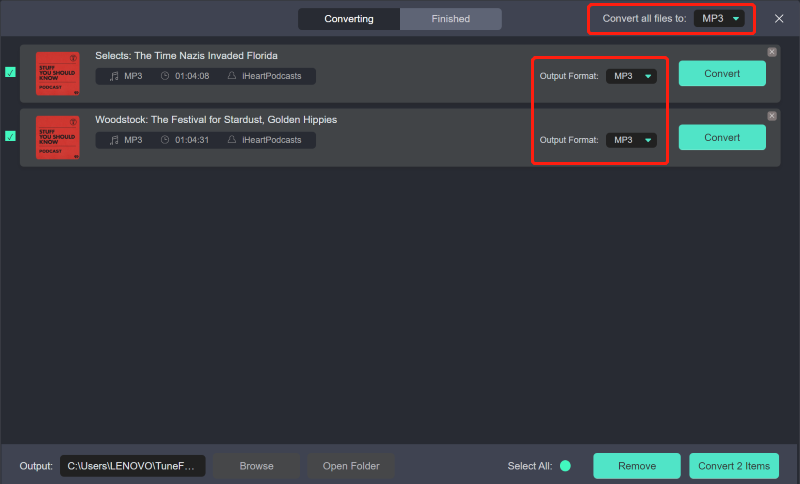 Step 4. Start Converting Podcasts from Pandora
Click Convert All in the bottom-right corner. The software will start converting all the podcasts in the Converting list.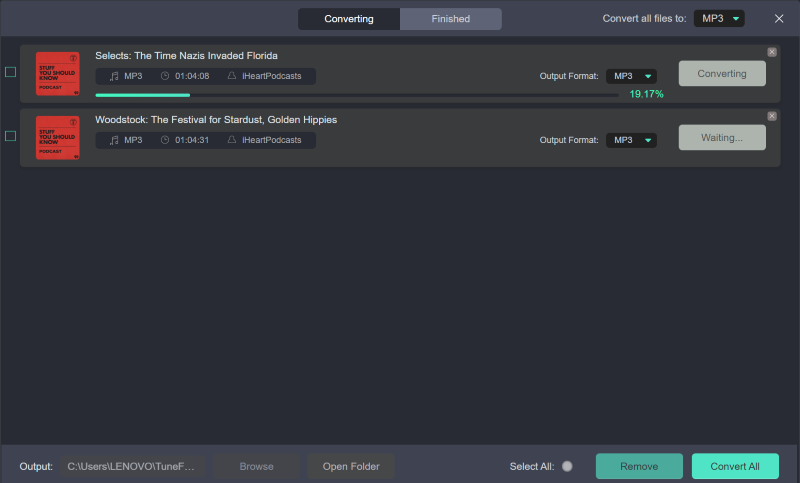 Podcasts that are successfully converted can be found in the Finished window or the destination folder.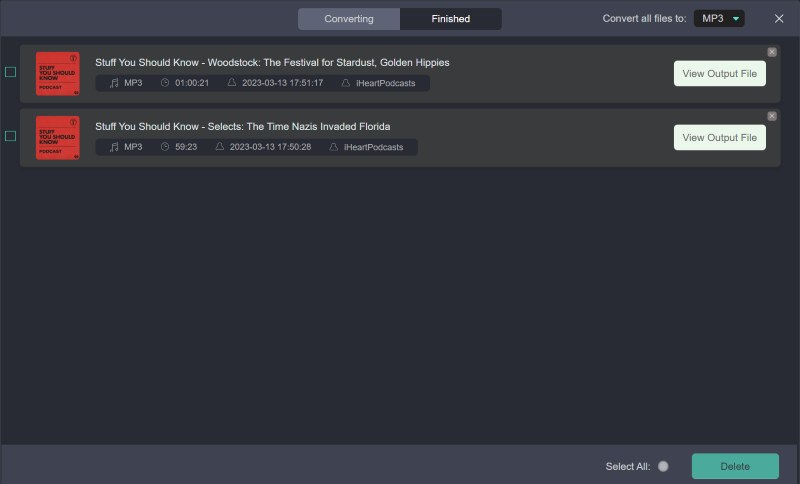 Step 5. Transfer the Converted Podcasts to MP3
After the podcasts are converted and stored in the destination folder, let's transfer them to your MP3. First, connect your MP3 Player to your computer with the provided USB cable. Click View Output File to access the output podcasts. Drag and drop the desired podcast files from the folder into the MP3.
Download Pandora Podcast Episode on Pandora App
Apart from saving Pandora podcasts as local files by converting them to MP3 format, you can directly download podcasts on your phone inside the Pandora app if you are a Pandora Plus or Premium subscriber. This method is only suitable for Pandora Plus or Premium subscribers who just want to access Pandora podcasts directly on their smartphones.
Before introducing you to detailed steps, it should be noted that Pandora only allows for downloading one episode each time. So you might have to click many times of "Download" when downloading a number of episodes. Besides, the downloaded podcasts are only accessible within the Pandora app. In other words, you can't transfer the downloads to your computer, MP3, or other devices.
Step 1. Open the Pandora app on your smartphone.
Step 2. Tap any podcast you are interested in. Choose one episode you'd like to download and tap its title.
Step 3. Tap Download (the icon with an arrow pointing downward) to start downloading the episode.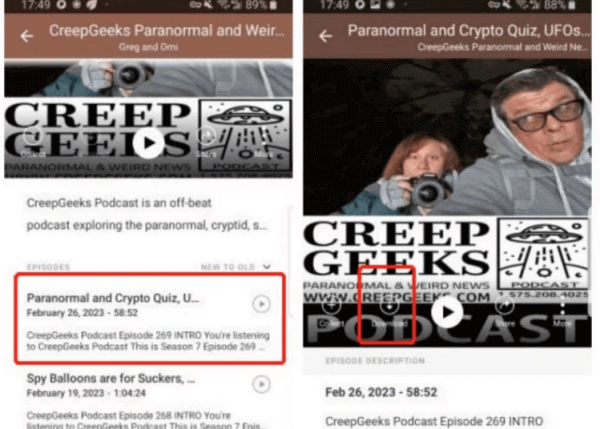 FAQs About Pandora Podcast Download
Can You Download Entire Pandora Podcast at Once?
The answer to this question depends on the applications you use. Pandora does not support downloads of multiple podcasts in one click. Instead, it only allows you to download episodes one by one. On the other hand, TuneFab Pandora Music Converter enables you to download the entire Pandora Podcast at once in two simple steps, saving you a lot of time and trouble.
How to Submit Podcast to Pandora?
Before submitting a podcast to Pandora, please make sure you have a Pandora account. If you don't have one, you can create an account for free. Besides, you also need the RSS feed of your podcast. With these two things, now you can begin the process of submitting a podcast to Pandora.
To begin with, head to Pandora For Podcaster
● Click AMP LOGIN at the upper right corner of the page to sign in to your Pandora account. Once you've successfully logged in, you will see Choose Your Submission Type. Select Podcasts and click Start Submission.
● A web page will appear where there is an input bar asking you to paste the URL here. Copy and paste the RSS feed of your podcast in the bar. Click Next.
● Another pop-up web page will ask you some details about your podcast, such as playback order, whether it is branding content, email address, and phone number, etc. Fill in these questions, and hit Submit.
● Finally, read through the terms and conditions and click Submit. Then you will see a message that says your podcast has been submitted to Pandora.
Conclusion
The restrictions Pandora places on playback devices, offline listening, and downloads indeed bring inconvenience to its listeners. Luckily, there is a way to solve all these problems. TuneFab Pandora Music Converter enables you to quickly download multiple Pandora podcasts at once, allowing for offline playback on your computer, MP3, or other personal devices at any time.
Was this information helpful?
TrustScore 5 | 49