The Spleeter Deezer is an AI-based audio source separation engine developed by the R&D team at Deezer, designed specifically for separating voice from the sounds of musical instruments of a song. However, you may still confused about how to use Spleeter, though it is contrived as a professional track-separating tool, the unfriendly user experience as well as the hard-to-install feature has blocked your very interest to probe in.
In this sense, are there other alternative ways to substitute Spleeter Deezer? Fortunately, the answer is yes and you just need to follow on patiently.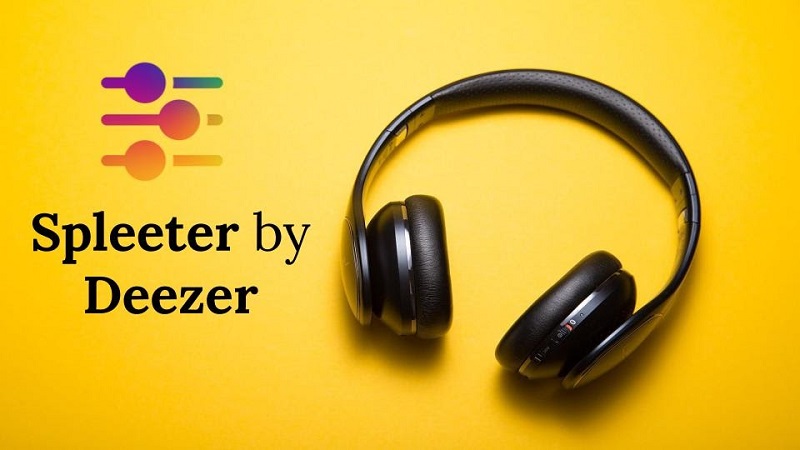 CONTENTS
Part 1. Main Features of Spleeter by Deezer
First of all, Spleeter Deezer's specific features may still be a little strange to most of you, so now, let's have a basic understanding of it so that you can better know how to use Spleeter.
What Is It Made For?
The career of source separation is still an area that deserves much attention and research. Deezer, as the leading streaming music service provider, has extensively researched this project, which resulted in the development of this highly efficient tool, Spleeter Deezer. It has been officially announced that this audio-separation tool is not only expected to contribute to their own advancement but also provide benefits for other industries. So, Spleeter is an exceptionally fast and powerful tool that is definitely worth exploring.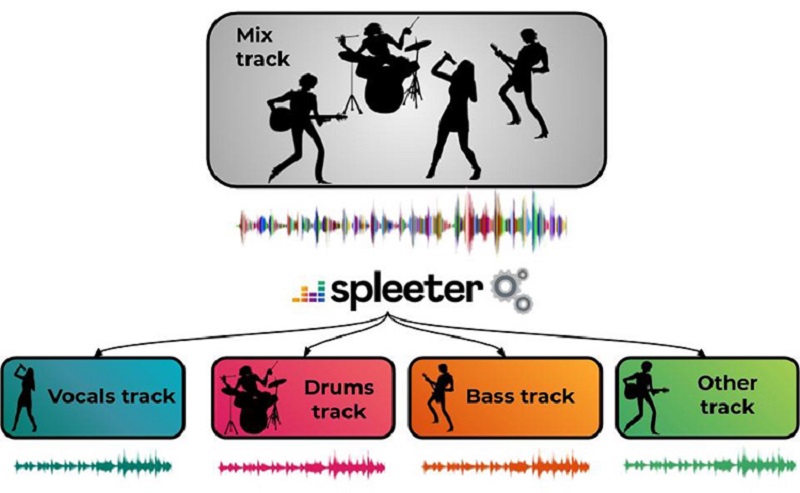 What Functions Does It Have?
To put it short, Spleeter is a cool tool that can separate different tracks from a single audio file, like songs, podcasts, movies, or games. It can magically extract the vocals and instruments from any music or audio source and separate them from the rest of the sound. Here are listed the specific functions below.
• Conduct audio restoration or remastering procedures
• Generate karaoke or music-learning tracks
• Produce multi-tracks for DJ mixes
• Streamline subtitling activities
• Develop customized audio-centric experiences
What Mode Can It Create?
After debugging and pre-training, Spleeter Deezer will create three different modes for Deezer to help you separate audio accordingly. You can choose whichever you want to make your music colorful.
• 2 Stems: Voice + all instruments
• 4 Stems: Vocals + Drums + Bass + Others
• 5 Stems: Vocals + Drums + Bass + Piano + Others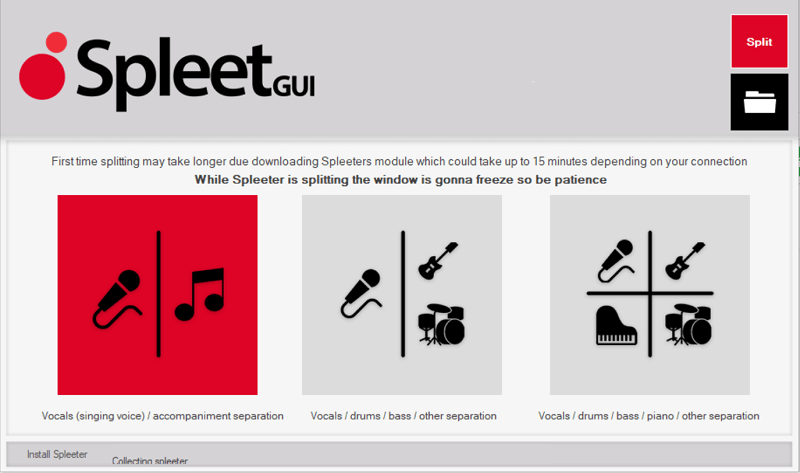 Part 2. How to Use Spleeter Deezer on PC
Now that we know what the Spleeter Deezer is mainly about and its powerful functions, in this section, you are going to be introduced to how to use Spleeter Deezer on a PC specifically.
Install Spleeter Deezer on PC
Actually, The Spleeter library is an open-source tool for audio separation, featuring pre-trained models implemented in Python and utilizing Tensorflow. As it is solely developed using Python code, there is no direct application download available on the App Store. Instead, you have to enter github.com to get the installation package to install Spleeter on your Windows PC.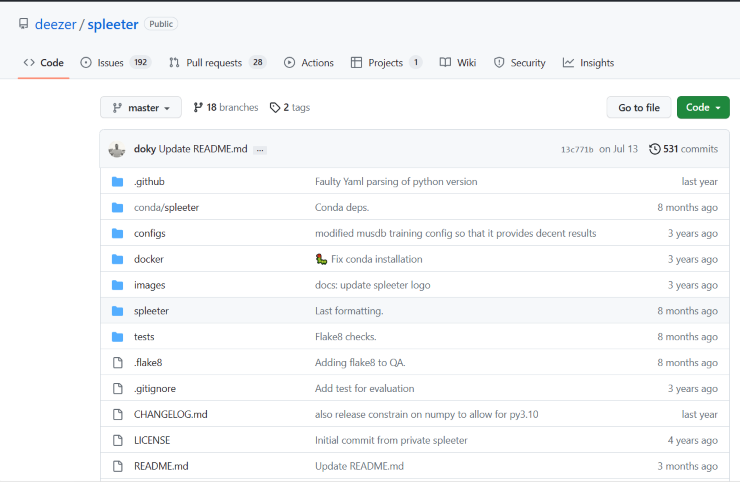 Use Spleeter Deezer on PC
The Spleeter Deezer command allows direct utilization of Spleeter from any CLI once it is installed. In terms of its key functionalities, you can cehck the 3 actions that Spleeter offers with their corresponding subcommand.
Separate
The audio files are segregated using a pre-trained model.
Train
The training of a source separation model necessitates the availability of a dataset comprising separated tracks.
Evaluate
Pretrained model evaluation over the musDB test set.
Tips:
Some users have reported problems with Spleeter not working properly on Windows computers. If you also encounter such a problem, try updating the Spleeter version to the latest, or switching to the Spleeter GUI version.
Part 3. How to Use Spleeter Deezer Online
On Mac, as there is no Spleeter Deezer on GitHub, how to use Spleeter on your Mac devices? Well actually, Spleeter Deezer has set up a Google Colab for online service, so you can consider using Deezer Spleeter online instead. Just follow the next steps.
Note:
Some users feedback that Mac devices with M1 and above chips may not work properly due to problems with the compatibility of the Deezer Spleeter. If this happens, check out the Extra Tip below for an easier and more stable way to separate the tracks.
Step 1.Head to Google Colab from colab.research.google.com.
Step 2.Follow the instructions displayed on the screen to access Spleeter online.
Step 3.Obtain the MP3 file example from Deezer Spleeter's Github.
Step 4.Separate the audio file from the command line.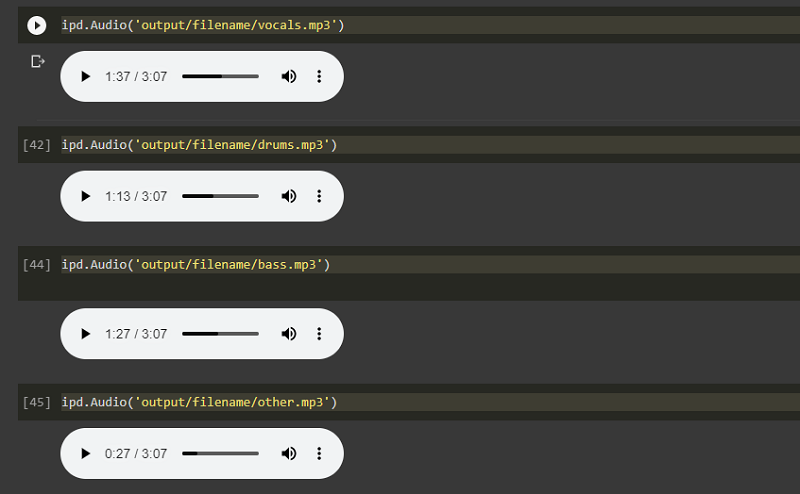 Extra Tip: Get Music Separated Without Deezer Spleeter App
After knowing about how to use Spleeter, from a comprehensive point of view, you have to admit that Deezer Spleeter has a very complex installation process, making it not easy to operate for beginners. And it has to be co-used with Deezer, meaning there may be copyright issues. Moreover, this software is often updated with Deezer updates, which is cumbersome and poses a virus risk.
Confronted with such a predicament, why not seek other ways to get music separated? You can first download Deezer music into MP3 files and then use other nice audio separation software to achieve the same goal. As for the former process, luckily, after trailing and evaluating, there is a user-friendly tool named TuneFab Deezer Music Converter to help you easily extract Deezer music into more compatible MP3 files. With its assistance, batch-converting your favorite Deezer music into local MP3 files will be extremely simple for you.
Key Features of TuneFab Deezer Music Converter
● Remove DRM-protection easily: support converting Deezer music into local files and saving them locally forever.
● Multiple output formats: transform music from Deezer to MP3, FLAC, M4A & WAV
● Fantastic output quality: enables you to download authentic HiFi Deezer songs for a seamless offline playback experience without any loss in quality.
● Efficient downloading process: 10X faster downloading speed as well as batch conversion function to guarantee a fast downloading experience.
● Embedded Deezer web player: offers a built-in Deezer web player to make the conversion straightforward and smooth.
● Preserve original ID3 and metadata tags: retain some information like artist, title, and album name to help manage well.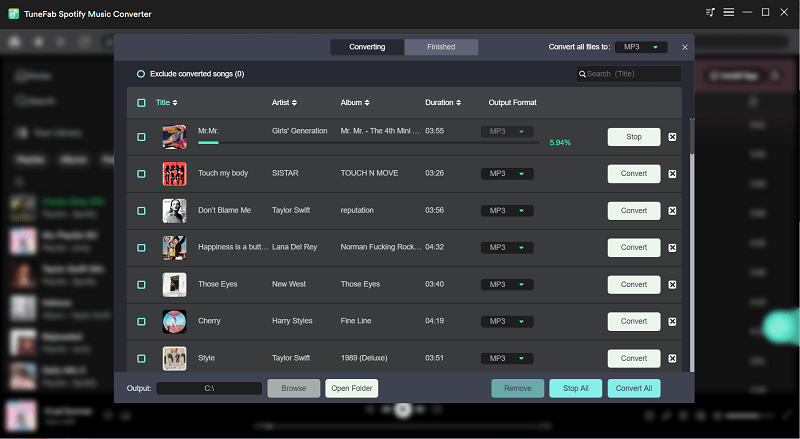 When the Deezer music has been transmuted to MP3, it's time to consider some good audio separation and AI optimization tools. Here are listed some recommended tools. Just have a look.
• For a free online AI audio separation tool, check out this website named vocalremover. This powerful online separation tool allows you to remove vocals from a song by creating karaoke without charge. The whole process takes you only ten seconds.
• For a professional software program with a trial period and subscription plan, you can turn to Descript, which also supports separate audio tracks of a song online. But if you download its app, more powerful functions will be provided, such as video editing, podcasting, screen recording, transcription, clip creation, and so on.
Summary
All in all, this article mainly tells how to use Spleeter to separate music sources detailedly. Nevertheless, Deezer Spleeter is somehow complicated to operate and may pose some problems. Therefore, downloading Deezer music to local MP3 files and then applying other audio separation instruments can be an appropriate solution to it. TuneFab Deezer Music Converter is the right tool in which you can convert Deezer music to MP3 without hassle. If you are daunted by Spleeter, just hit the button below for an easier solution!
Was this information helpful?
TrustScore 5 | 49