Although Deezer provides a rich music library for users to access and enjoy countless music resources, it has limited the download function to only subscribers, and even added ads to interrupt the playback occasionally. To overcome these limitations and download Deezer Music to enjoy offline without ads, Freezer Deezer Mod APK brings help.
Before getting started with the convenient service brought by Freezer Deezer, this Freezer review will introduce it completely from all aspects to let you know more about the tool. Now, get started reading and see how Freezer Deezer works to help!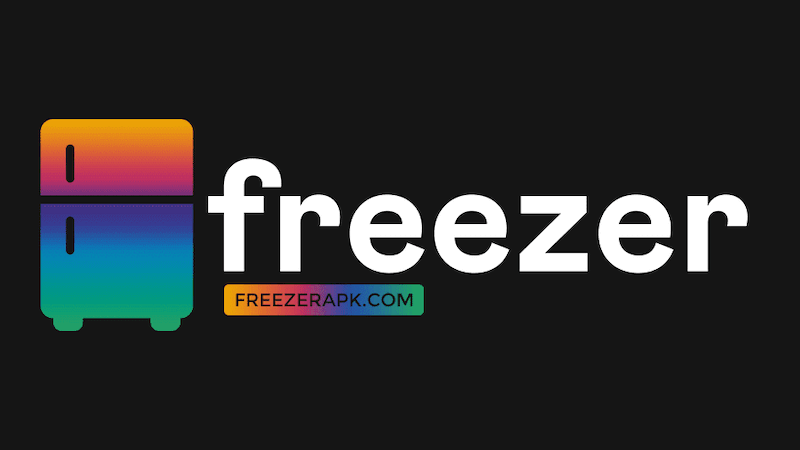 Contents
Part 1. What is Freezer Deezer? What Can It Do?
With great device compatibility, Freezer Deezer provides powerful support for Windows, Mac, Linux, and Android devices to download Deezer songs without a premium subscription to have smooth and interruption-free playback offline. The tool supports selecting the most commonly used MP3 and FLAC formats to download Deezer songs, making the downloads playable on most devices without hassle.
Also, Freezer Deezer adds smart streaming features to provide you with a professional music playback experience. For example, it can read the lyrics of the songs while you are playing them, making it easier for you to check the lyrics or recognize a song while hearing it but don't know its title at all. You can also regard it as a music management tool, with the ability to add other local playlists to play together conveniently.
Here is a clear list of Freezer Deezer's features and weaknesses to help you decide whether to use it or not.
Pros:
• Supports music downloading for both Deezer Free and Premium accounts
• Works to download Deezer songs, playlists, and podcasts
• Compatible with both computers and mobile phones of the most popular systems (Windows, Mac, Linux, and Android)
• Convenient lyrics recognition and music management features

Cons:
• The tool contains too many ads to affect your experience in using
• Doesn't ensure lossless music quality (no support for adjusting output parameters)
• Only offers MP3 and FLAC to download Deezer songs
• The Deezer song metadata information can't be fully saved
• The security of the tool is not verified

Tip: If any of these disadvantages of Freezer Deezer affects your experience in downloading Deezer songs, or you feel worried about the software safety, you can consider the tool showed in the final part as an alternative to Freezer Deezer, which can completely fix all of them and provides the most professional Deezer Music download experience to you.
Part 2. How to Use Feezer Deezer on Computer
As Freezer Deezer supports running on Windows PCs and Android phones, this part will first show you how to install Freezer Deezer and use it on your computer. For desktop users wanting to download Deezer Music for free, check the tutorial below and see how Freezer Deezer can help.
Step 1. Firstly, you need to install Feezer Deezer PC version from the official website.
Step 2. Double-click on the installation package, you only need to follow the simple on-screen instructions to complete installing it.
Step 3. When Freezer Deezer is well installed, open the software and you can begin to enjoy the convenient Deezer music download service brought by the tool.
Part 3. How to Use Feezer Deezer on Android
For Android users, the Feezer Deezer APK installation can be even simpler. But pay attention that you can't find it in Google Play Store. Now, follow the steps below to properly get Feezer Deezer on your Android phone to download Deezer Music without Premium.
Note: According to some Android users, Freezer Deezer may stop working after updating to the latest Android system. This problem probably occurs due to the limitation added by Deezer Official to prevent cracking extensions from accessing its music resources. If you encounter such a problem, try subscribing to Deezer Premium or using Deezer Music Web Player instead. If it still doesn't work, you will get the best Deezer Music downloader in the next part.
Step 1. Like on Mac, you need to go to "Settings" on Android and tap "Security" to enable downloading apps from "Unknown" sources.
Step 2. Then you just need to go to its official website, where you can find the Feezer Deezer for Android and get its installation package.
Step 3. Next, just find the downloaded installation package on Android and click to open it, Feezer Deezer will be installed on Android very soon.
Step 4. Finally, once the software is installed, open it to enjoy offline Deezer Music streaming by downloading your favorite songs offline.
Bonus: Best Freezer Deezer Alternative
Although Freezer Deezer works to download Deezer Music without a Deezer Premium account, it still contains several disadvantages. For example, it only supports basic music quality, limited format options, and even contains ads and safety concerns using the service. In this case, you would probably want a more professional Deezer Music downloader other than Freezer Deezer to download Deezer songs in a safer way with higher quality. Here, TuneFab Deezer Music Converter is what you are looking for.
Works on both Windows and Mac systems, this program is embedded with a 100% safe Deezer Music Web Player, allowing you to directly download Deezer Music to MP3 or other 3 popular formats with adjustable quality options (up to 320Kbps HiFi) for free offline playback on any device. Also, its 10X faster batch downloading speed can help you save even more time in downloading whole Deezer playlists/albums at once, making your music download process more efficient!
Key Features of TuneFab Deezer Music Converter:
● Offers in-built Deezer Music Web Player to download all Deezer songs safely
● Provides 4 commonly-used formats including MP3, M4A, WAV, and FLAC to select
● Offers up to 320Kbps HiFi quality for you to select downloading Deezer Music at the best quality
● Saves full ID3 information for all Deezer songs to easily manage offline
● Offers 10X faster batch downloading speed to rip Deezer playlists/albums within minutes

Next, the tutorial will be provided to guide you on how to download Deezer Music using TuneFab Deezer Music Converter just by easy clicks.
Step 1. When you have installed TuneFab Deezer Music Converter on your computer, open it and enter the in-built Deezer Music Web Player. Then sign in with your free account.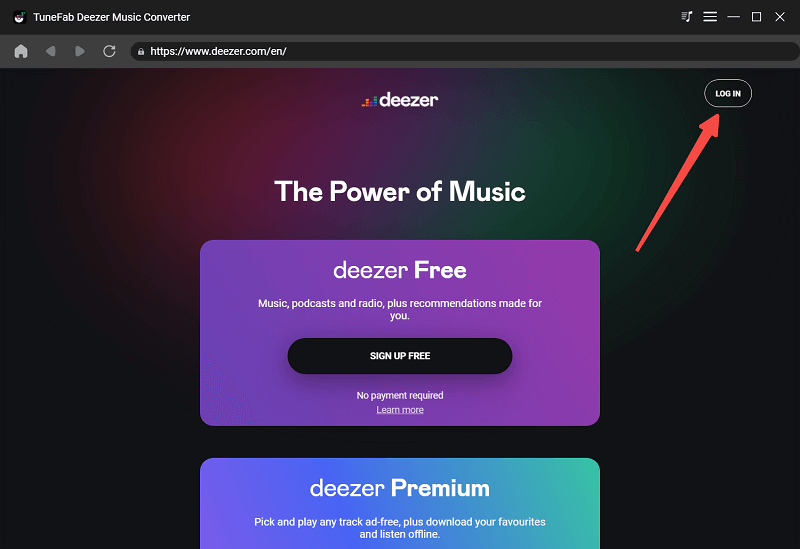 Step 2. You can directly search any Deezer song, playlist, or podcast in the web player. Then drag them to the "+" button to convert.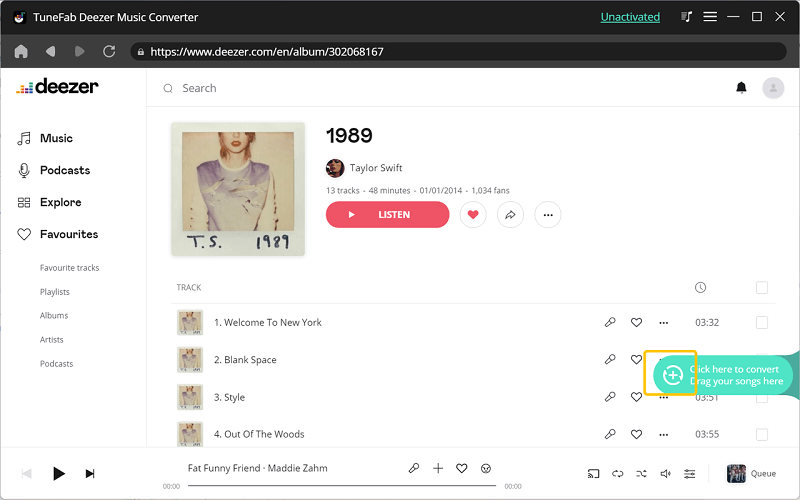 Step 3. Next, select an output format from the top-right "Convert all files to" menu.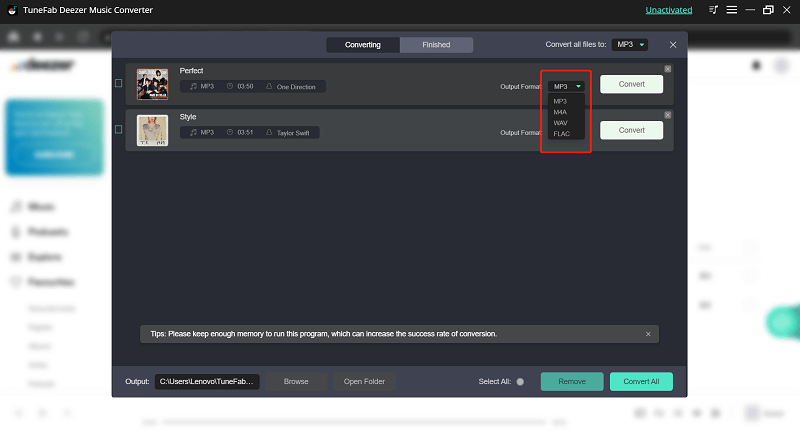 To customize the output quality, go to "Preferences" and switch to "Advanced" to adjust both the "SampleRate" and "Bitrate" as you need.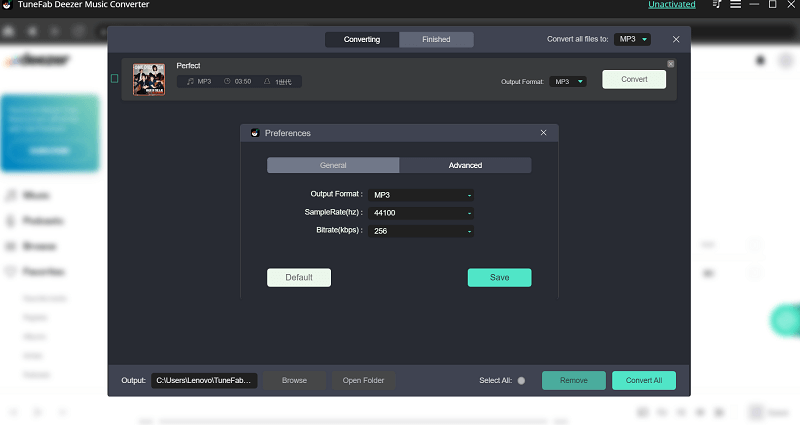 Step 4. Finally, just click "Convert All" to download all added Deezer songs as common audio files offline immediately.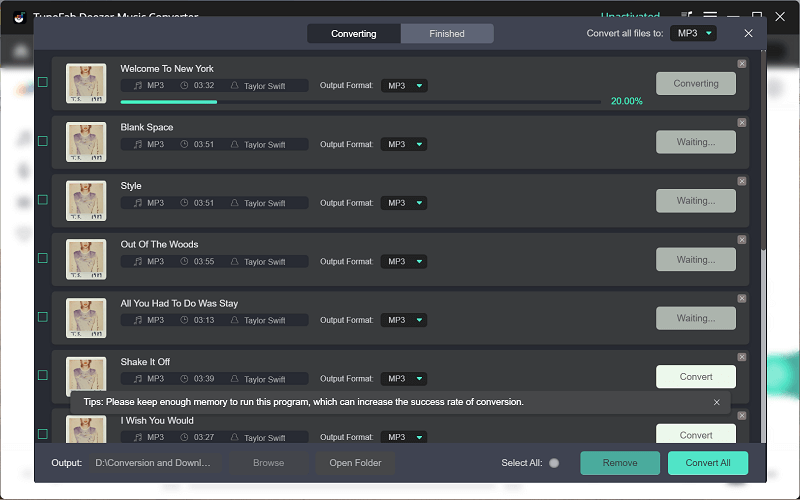 Conclusion
Although Freezer Deezer offers a simple way for Windows, Mac, Linux, and Android users to download Deezer Music just by clicks, it still contains limitations and disadvantages to affect your user experience. To seek a better Freezer Deezer alternative and download Deezer Music more conveniently, TuneFab Deezer Music Converter can be the best choice for its safe and efficient process.
Was this information helpful?
TrustScore 5 | 1