Apple Music, the streaming giant, has also jumped on the trends and provided online music services to smart TV manufacturers. Now, you can also access Apple Music as an app on Roku, the famous smart TV streaming platform, making enjoying Apple Music on Roku as convenient as doing so on Apple TV.
However, using Apple Music on Chromecast will be different. The Apple Music app is not yet available on any Chromecast models. Hence, you cannot directly listen to Apple Music on Chromecast as you do on Android phones, computers, and other non-Apple devices.
Don't worry! Today's post will introduce 3 workable ways to play Apple Music on Chromecast from various devices. Moreover, it will present a converter to convert Apple Music to widely supported formats like MP3, helping iOS users to Chromecast Apple Music easily.
CONTENTS
Part 1: How to Stream Apple Music to Chromecast from iOS
As you probably already know, iOS devices don't support Chromecast, so you will need a third-party tool to cast their content to Chromecast. But for reasons of security and competing standards, the audio in Apple Music will not be played when you use other helpers to cast the screen. Besides, even if you unlock the screen mirror function to stream Apple Music through the tools, there may exist the tricky situation of constantly disconnecting and reconnecting, after iOS 16 update.
Is there any way out? Certainly yes. To successfully stream Apple Music to Chromecast from iOS devices, we have picked up one of the best tools, TuneFab Apple Music Converter to help you. With its powerful functions, you can download Apple Music to MP3 and other compatible formats on your Windows/Mac computer in advance, then transfer them to your iPhone. After that, you can stream Apple Music to Chromecast from your iPhone with ease following the guidelines.
As a tool for music converting, TuneFab Apple Music Converter owns:
😊 Various mainstream output formats. It removes DRM restrictions on Apple Music and converts them to frequently used formats to play them on smart TVs.
😊 Keeps original media quality. The conversion process does not cause any loss of quality, while saving ID3 information of all the songs.
😊 5X converting speed. You don't have to wait for a long time because the extremely fast speed helps you convert Apple Music in a blink of an eye.
😊 No iTunes installation required. It is integrated with an Apple Music web player.
😊 Customized parameter settings. Besides the music format, you can set the bitrate and sample rate according to your preference.
Once you have downloaded this app on your iPhone, you can start learning the following steps to convert music from Apple.
Step 1. Install, Run the Software, and Sign in Your Account
Download TuneFab Apple Music Converter. When you start to run the program, click the icon to Open the Apple web player.
Firstly, you should click the Sign In icon on the upper right side, and then follow the guidance, to log into the Apple Music web player with your Apple ID. You will access the music library and the download service after that.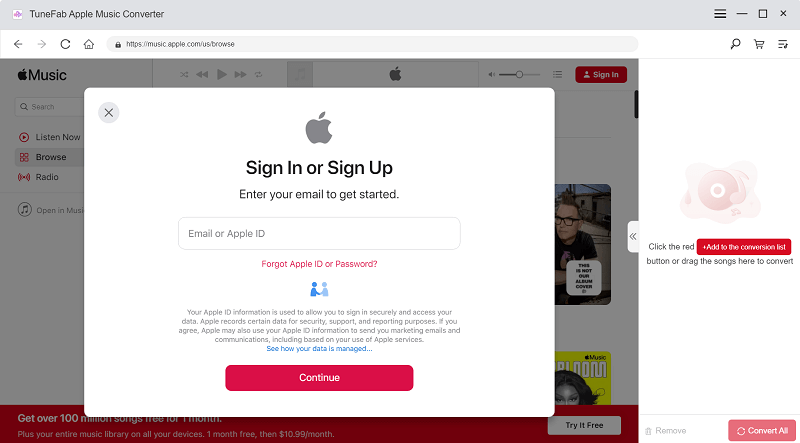 Step 2. Select Music to Download
After signing into your account, it is time to select your favorite music to download. You can choose a full album as well as a self-built playlist or singles to convert. Just drag your targeted music files to the Convert icon and get ready for the conversion.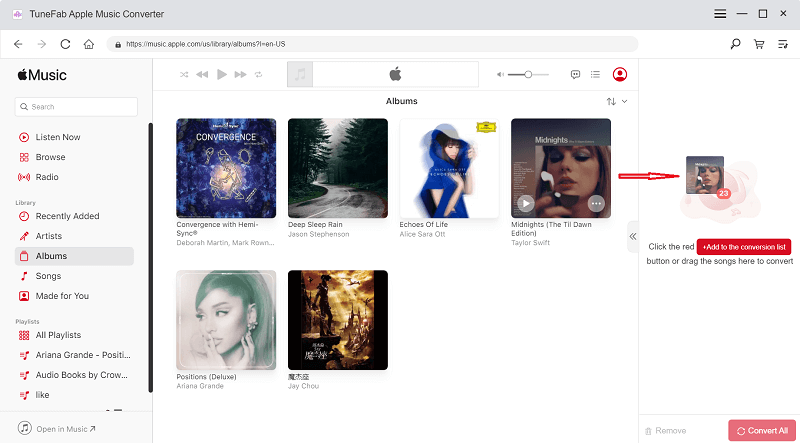 Step 3. Choose Your Output Preference
Since TuneFab Apple Music Converter provides users with various music formats and customized services, you can select any format according to your requirement. Furthermore, you can adjust the bitrate to make your music closer to the original quality of Apple Music.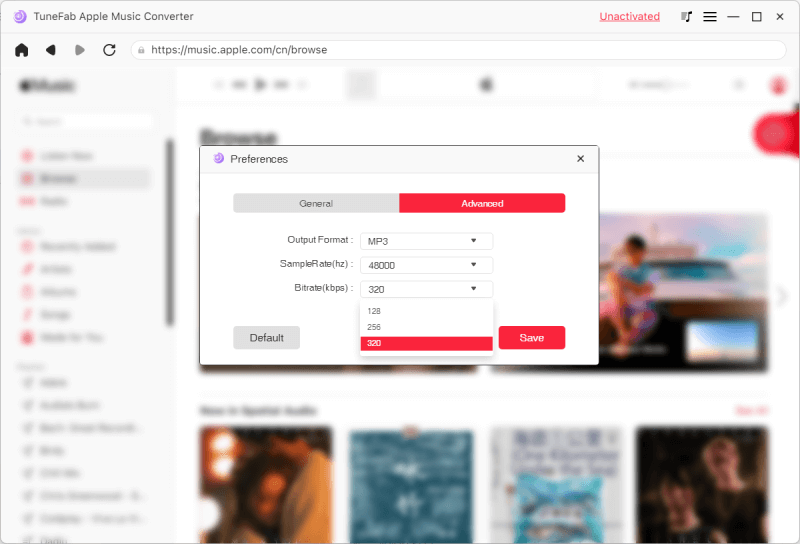 Step 4. Save Your Conversions
After setting all the needed data, the final step is to convert all the songs into the targeted format. Click Convert All and wait for a few minutes for the converting process to complete.
With the 5X extremely fast speed, you will find the conversions have been done just in a while, and all the music information has been kept in the output folder.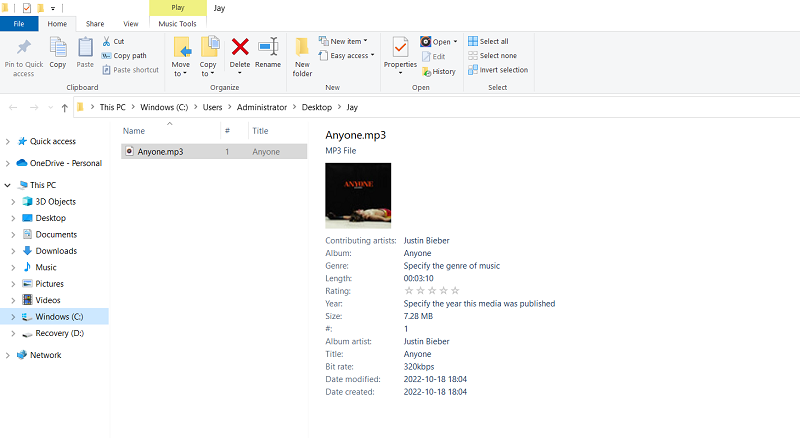 Step 5. Transfer Music to iPhone
After finishing downloading, you can now transfer Apple Music to iPhone.
If you are using a Mac computer, you can AirDrop the downloaded files to your iPhone. Set up your iPhone to enable the AirDrop feature and bring it next to your computer. Enter Finder > AirDrop on your Mac, drag the files to the tag, and click the popped-up icon on your iPhone.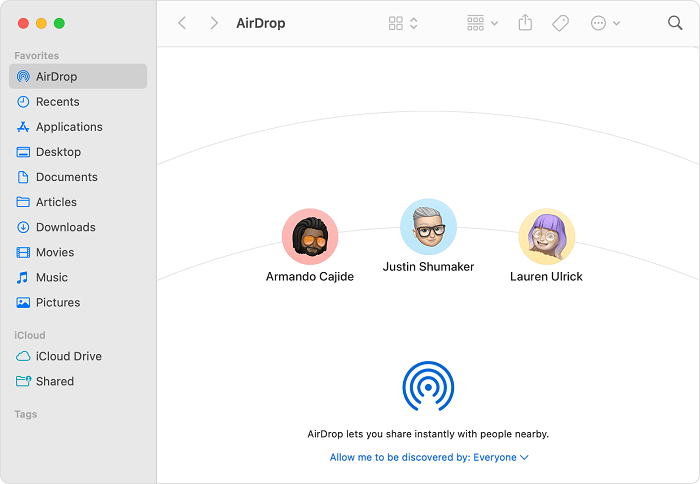 If it's a Windows device, then iTunes will be your best tool to transfer. Launch iTunes App on your computer, then connect your iPhone to computer with a USB cable. Click Files > Add File to Library on iTunes, select your files then Open to add to iTunes. Enter the Music tag on the left menu, then press Apply to send your music files to iPhone.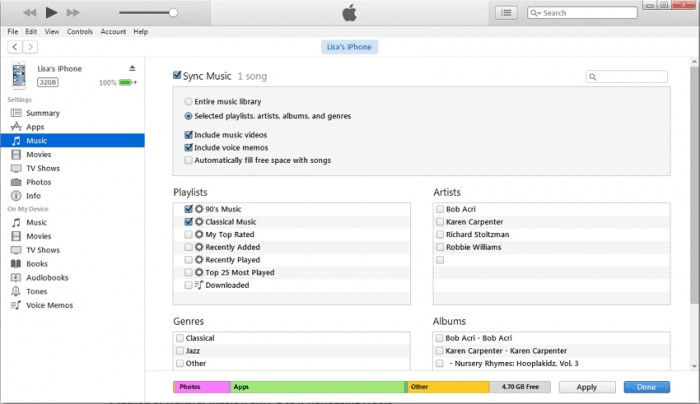 Step 6. Cast Music from iPhone to Chromecast
Given the limitations of iPhone in terms of the screencast, Cinch for Chromecast is here for you. It is an App that works on iPhone that helps you stream local media to Chromecast.
Download the App from App Store and launch it, then find the music you want to play. Tap the Cast button and choose the Chromecast device you want to stream to, like Google TV in the image below.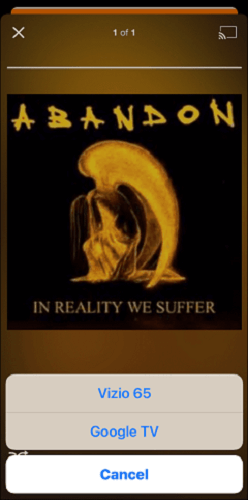 Note:

Cinch for Chromecast App is sometimes not very responsive and stable.

Before casting your screen, please make sure that both the device you are using to cast your screen and the device being cast are connected to the same Wi-Fi.
Part 2: How to Play Apple Music on Chromecast from Android
Unlike iOS devices, Android devices come with Chromecast support by default. In other words, as long as you download and install the Apple Music app on any of your Android devices, you can directly use its built-in screen casting function to play Apple Music on Chromecast. If you want to do so, just follow the steps below.
Step 1. Find the Apple Music app on your Android smartphone, open it and tap the Cast Icon.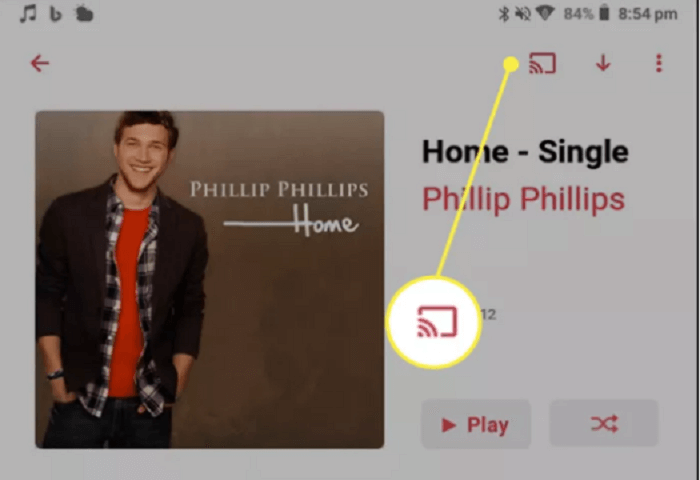 Step 2. Tab the name of your TV and connect it to your phone. Your music will begin to play on your TV when you finish the connection.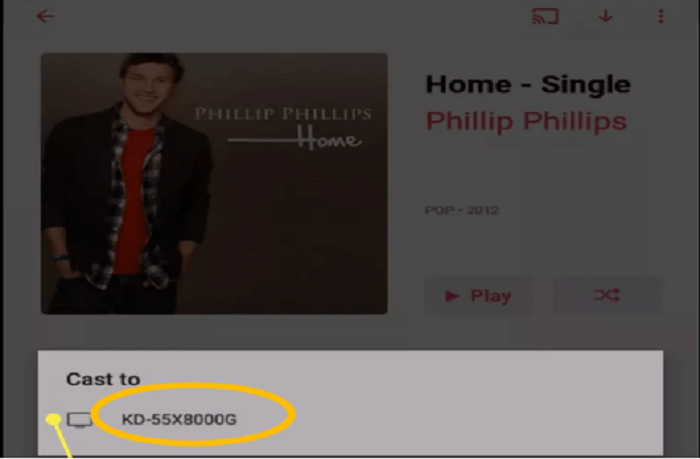 Step 3. Once you want to stop casting music, just tap the Cast icon again and choose Stop Casting.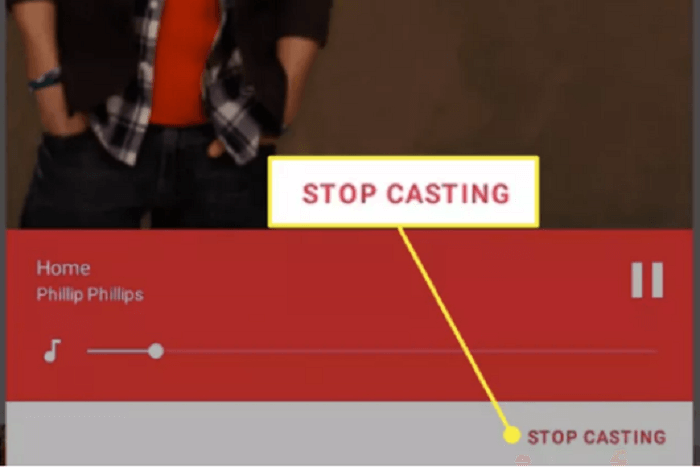 Part 3: How to Cast Apple Music to Chromecast from Windows/Mac
The situation on computers is also different from what you have just learned, because the web browsers on PC will be the most applicable screen-casting tools for you. In short, you can play Apple Music from your Mac or Windows computer using browsers such as Google Chrome and Microsoft Edge, and then cast them to your target device. Read on for more details.
Using Microsoft Edge
Step 1. Go to the Apple Music website first. Click the Settings button at the upper-right corner, and enter More tools > Cast media to device.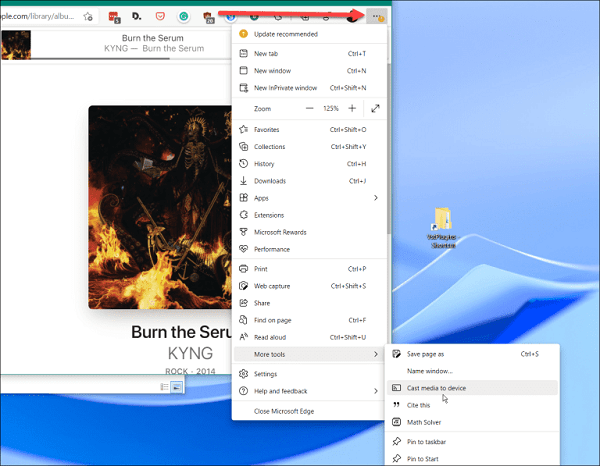 Step 2. Select the Chromecast device you want to stream the music.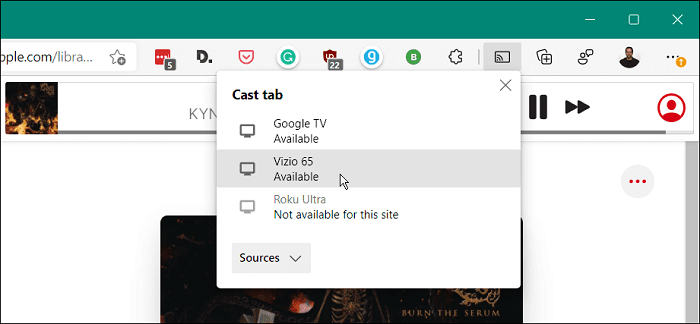 If you want to disconnect, click the Cast that appears on the toolbar.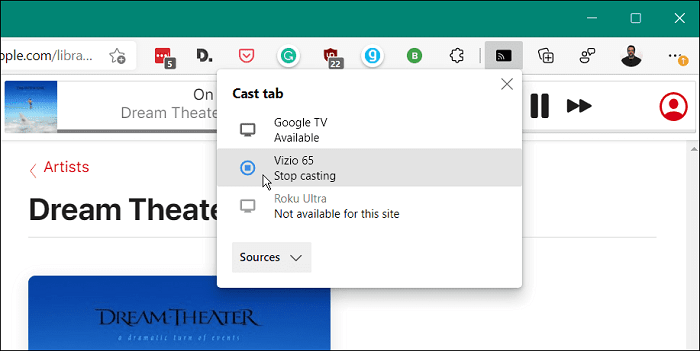 Using Google Chrome
Step 1. Enter the Apple Music website, click the Three-dot menu button on the upper-right corner, and select Cast.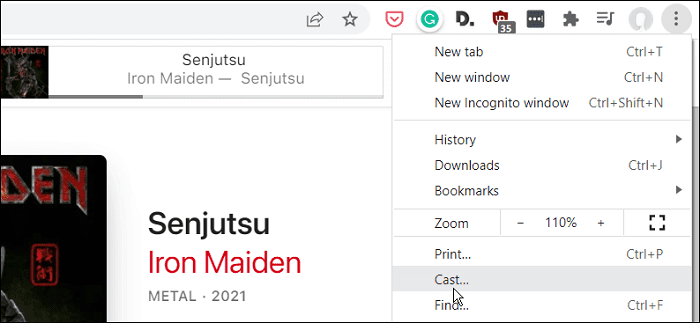 Step 2. Choose where you want to send the music, and it should start playing right away.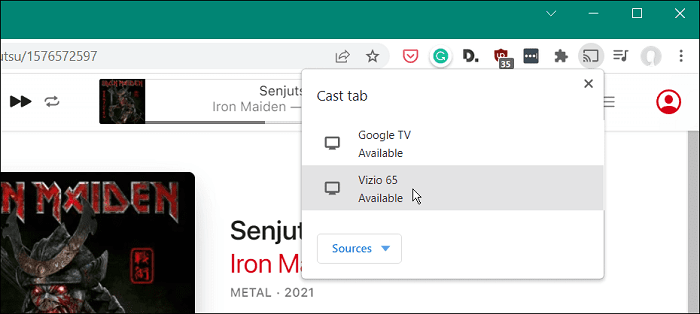 To disconnect, click the Cast button on the toolbar and click the device again to stop casting.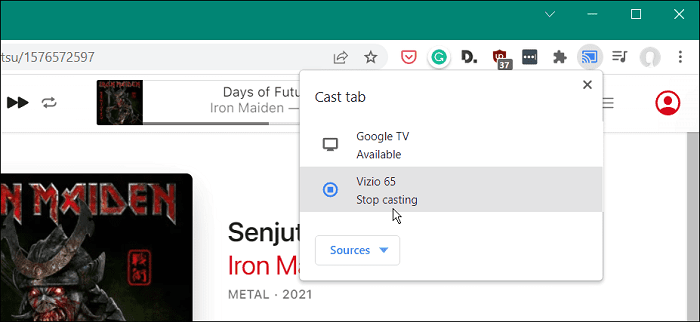 FAQs About Apple Music Chromecast
Q1: Why my Apple Music can't play Chromecast from Android?
During the process of casting Apple Music from Android devices to Chromecast, you may come across some little troubles, such as getting an error message saying that "Not supported on device" or "Cannot play on Chromecast". There are several solutions that might help you with this situation.
Solution 1: Restart your Chromecast and your Android device. Check for updates on both of them.
Solution 2: Check whether your Android phone and Chromecast are connected to the same network.
Solution 3: If your network router can broadcast on multiple bands, then you would need to make sure that both your Chromecast and your Android phone are connected to the same band.
If you have tried all these solutions and it still doesn't work, please consult Chromecast's official help center or contact Customer Service.
Q2: Can you cast Apple Music to your TV without Chromecast?
If you don't want to use Chromecast to cast Apple Music to your smart TV, there were definitely some alternative ways to help you with your needs. Check the methods below.
Method 1: Try HDMI Connections
You can always cast your Android, iPhone, or computer on your TV with wired connections, like using an HDMI cable or other compatible cable.
Method 2: Try AirPlay
For iOS devices, AirPlay can be the easiest way to cast Apple Music if you have an Apple TV or a smart TV that supports this AirPlay feature.
Method 3: Try Browsers/Apps on TV
Nowadays, many smart TVs have a web browser that you can use to access the Apple Music website. Or, you can search for the TV version of the Apple Music App and launch it on your TV.
Conclusion
You have learned several methods to Chromecast Apple Music on TV from different devices. It's not hard on Windows/Mac computers and Android phones, but for iOS users, we believe that TuneFab Apple Music Converter can make things even easier without worries. Click the button below and enjoy yourselves with Apple Music on TV!
Was this information helpful?
TrustScore 5 | 2