Is Apple Music on Roku? The answer finally becomes YES ever since May 2, 2022. This post integrates some FAQs you may probably have between Apple Music and Roku. Can you get Apple Music on Roku? How to play Apple Music on Roku? Or even, how to play Apple Music songs offline on your Roku streaming platforms, for example, Roku TV? Take a tour in this in-depth article.
Note: Roku doesn't allow you to listen to downloaded Apple Music offline. So if you want to listen to Apple Music even without a network, TuneFab Apple Music Converter will be your right hand to download Apple Music as local files and use USB tools to play them on multiple devices.
CONTENTS
Apple Music Is Now Available on Roku!
Roku has been entering and becoming part of daily life in the US family with its excellent streaming players, Smart Home, Roku TV, and audio devices. Roku streaming devices have been working seamlessly for a long time with mainstream media platforms like YouTube, Netflix, Hulu, Tubi. However, Roku has expanded the availability of Apple Music ever since May 2, 2022. The two companies finally bring up cooperation and delight to their users.
Apple Music is now available on Roku, one of the most ubiquitous smart TV platforms on the market. Roku users are thus able to access over 100 million tracks and 30,000 expert-curated playlists with full support to live lyrics, 4K streaming of music videos, and Apple Music Radio.
However, some excellent features of Apple Music are missing out on Roku streaming platforms including Lossless support (Apple Music Lossless and Hi-Res Lossless) and Spatial Audio. That means Roku users cannot be able to enjoy more detailed listening and a surround & 3D audio experience. What's more, the download feature is not available on Roku. Apple Music subscribers cannot enjoy offline playback on Roku. It's still unknown whether this feature will be unlocked in the future.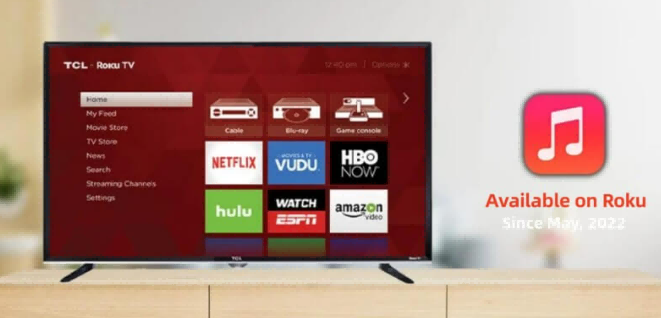 How to Add Apple Music on Roku
Apple Music is now available on Roku Channel Store to free download on any Roku streaming device. The steps to get Apple Music on Roku is basically the same as you used to install apps from Roku Channel Store. Or, you may want to review the whole procedure below.
STEP 1. Press the Home button and then the Left button on Roku Remote to launch the menu.
STEP 2. Go down to the Streaming Channel option.
STEP 3. Scroll down to select the Search Channel option.
STEP 4. Type in Apple Music with the virtual keyboard or use Voice button to speak out Apple Music to quickly locate the app.
STEP 5. On the info page, press the Add Channel button and confirm it by OK.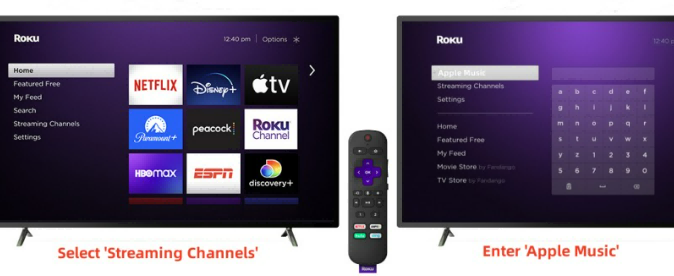 Note that you should update Roku OS to the latest version so as to support Apple Music.
How to Play Apple Music on Roku
Now, you already have Apple Music on your Roku TV after the previous part. Let's see how to play Apple Music with your Apple ID to enjoy your favorite music with a big screen.
STEP 1. Open the Apple Music channel you just added to Roku TV.
STEP 2. There are two sign-in options.

● Directly scan the code in the screen by the Apple Music app on your iPhone or Android.
● Sign in your Apple ID manually with Roku Remote.
STEP 3. You need to verify yourself for the first time using Apple ID on Roku and authorize the device to access and utilize your account.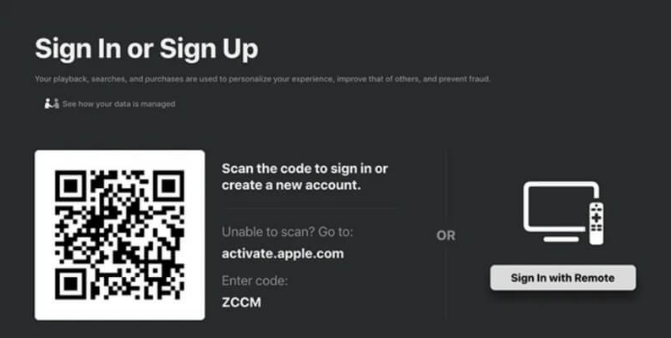 You'll need to subscribe to Apple Music in order to get access to over 100 million tracks with ad-free listening. The steps to activate Apple Music plan are almost the same both on Roku and on the web. Or you can start a free trial for a month.
1. Log in Apple Music on your desktop or mobile devices.
2. Go to Listen Now or For You and tap/click the trial offer.
3. Read the info page for plans and select one to go on.
4. Fill out the billing information and finish the payment.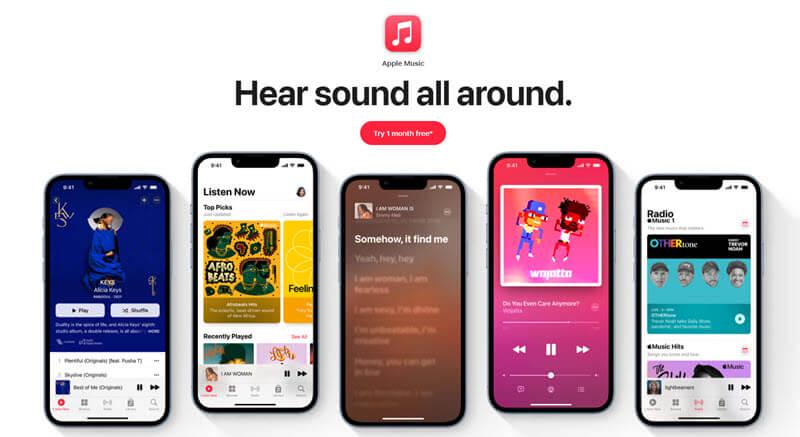 Can I Listen to Apple Music on Roku Offline?
You can enjoy a great source of tracks on Apple Music with Roku streaming platforms. However, you are unable to download tracks from Apple Music to offline listening for the reasons:
● Apple Music doesn't enable the Download feature on Roku.
● Roku streaming devices like Roku TV has small storage which is not enough for batch downloads of music tracks.
No worries. There is a good idea to realize playing Apple Music songs offline. You can directly download tracks from Apple Music to USB stick/flash drive, and then hook up the USB to your Roku TV. I'll show you detailed steps on how to do so for your reference.
Apple Music songs are all encrypted by ALAC (Apple Lossless Audio Codec), so we're going to rely on professional software - TuneFab Apple Music Converter. This program requires no Apple Music subscription to download copy-protected songs fron Apple Music with ease. More features are listed below.
● Advanced Decryption Algorithm - TuneFab defies the barriers of Apple Lossless Audio Codec to fetch and decode Apple Music songs to CD sound quality in MP3, M4A, WAV, and FLAC.
● Instant Download Service - TubeFab Apple Music Converter builds into Apple Music Web Player making it easy for users to download tracks in a direct and fast way.
● Batch Download Available - Users are able to download the entire playlist or album to Windows and Mac computers with a button.
● Ultra-Fast Download Speed - The software enables hardware acceleration to boost the downloading process up to 5X faster.
Now, there is a detailed tutorial for those who might not use TubeFab Apple Music Converter ever.
STEP 1. Log in with Apple ID
First, you should download and install TuneFab Apple Music Converter on your desktop. Then, launch the program and click Open Apple Music web player to proceed.
You'll be asked to log in your Apple ID. Please sign in with your account. You don't need to subscribe to Apple Music plans indeed.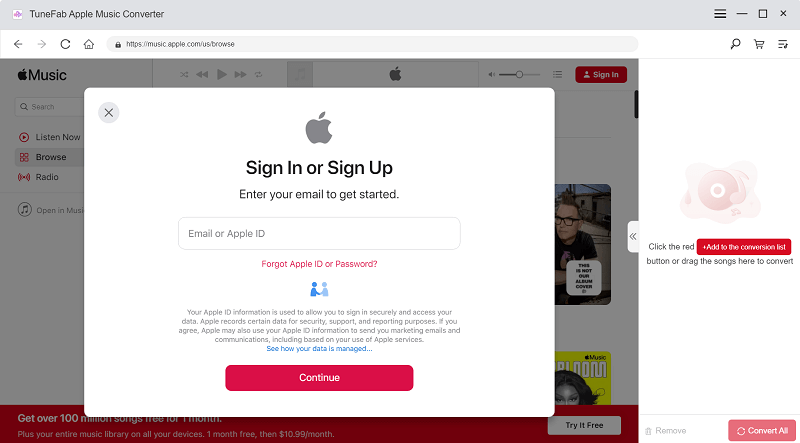 STEP 2. Set USB as Output
Since you want to download Apple Music songs to a USB stick, please insert the USB into the computer and ensure that it's readable.
Go to the Dropdown menu on the upper right and select the Preferences option. Then, click the Browse button to set your USB flash drive as the output folder.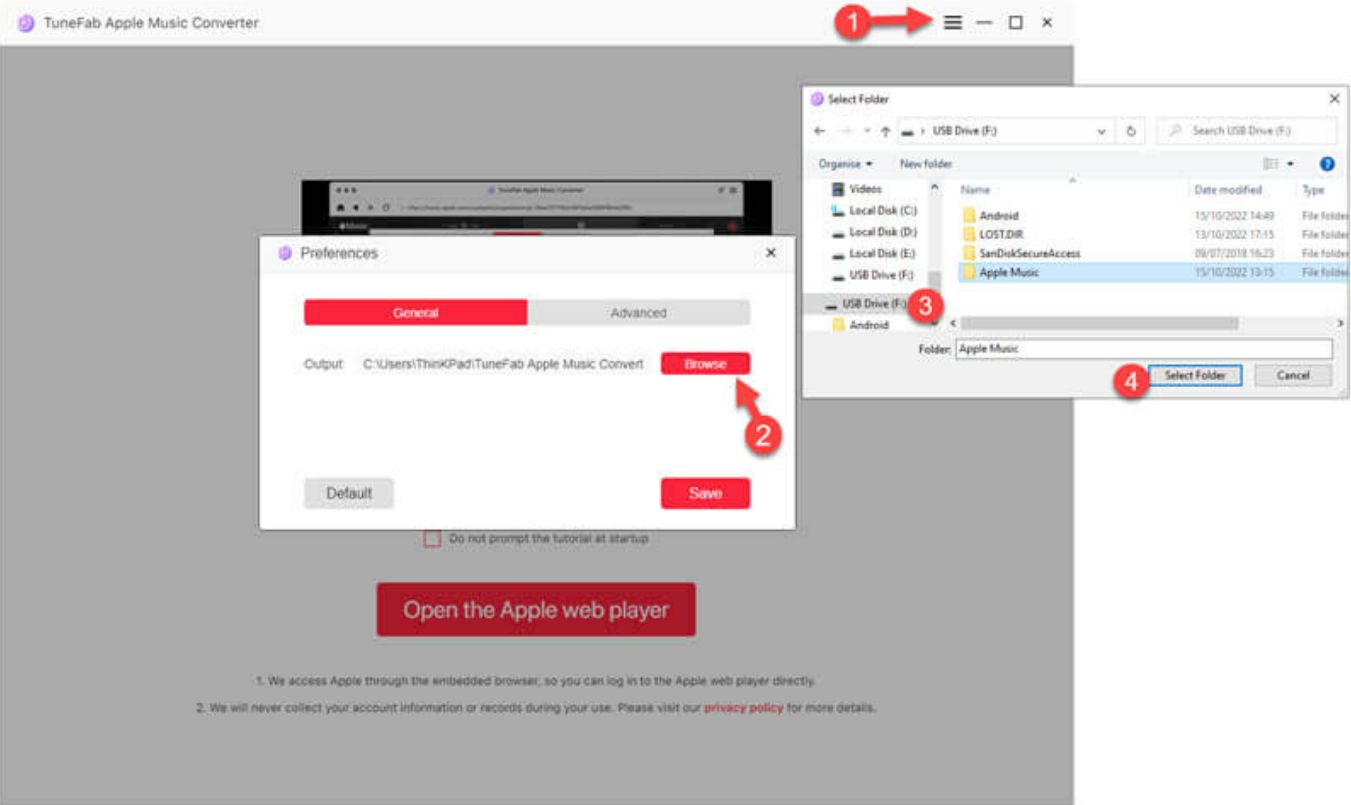 STEP 3. Download Apple Music
After that, choose a playlist or album that includes your desired tracks. Now, drag the song with the mouse to the Red Plus button. If you want to download the entire playlist/album, click the Red Plus button in the ablum/playlist info page and TuneFab will start fetching and decoding the tracks.
You'll see feeds of music awaiting to convert. After you select those you want to download, click the Convert All button. When the downloads are completed, your selected Apple Music should be stored on the USB stick. Unplug it and insert it into your Roku TV to enjoy offline playing.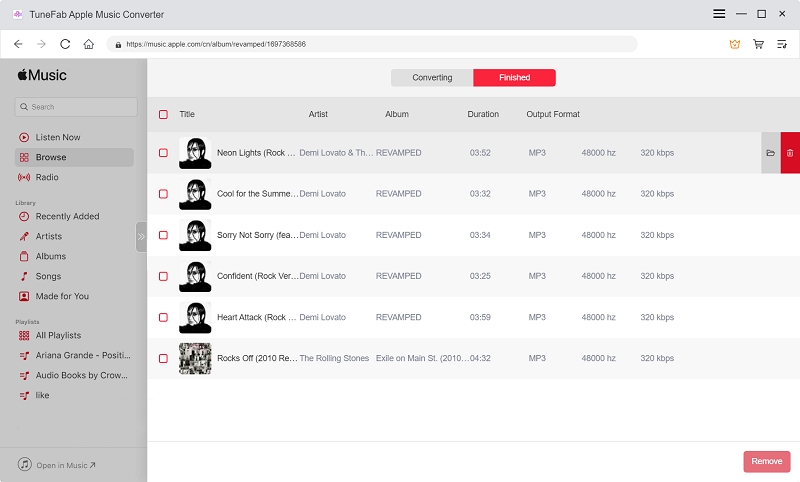 That's quite easy, right? More than Roku TV, you can take the USB flash drive and play Apple Music offline on a Car audio device, or audio speakers when outdoor. It's convenient to put music into a USB stick.
TuneFab Apple Music Converter
One click to remove DRM from Apple Music, iTunes Music, audiobooks
Was this information helpful?
TrustScore 2.5 | 8