Apple Music is a popular music streaming service that envelops listeners in an immersive experience on over 100 million songs. However, many listeners might have a headache with the question - How to put music from Apple Music onto USB flash drive? Your question will be answered in detail with this post.
CONTENTS
Full Guide to Download and Put Apple Music onto USB [Workable]
Due to Digital Rights Management applied to the songs from Apple Music, you need to rely on professional DRM-removal software to break the encryption and transcode Apple Lossless tracks to a lossy, flexible, and commonly used audio format, for example, MP3.
TuneFab Apple Music Converter is such an expert at removing DRM restrictions and decoding tracks from Apple Music to download and transfer to a USB flash drive in an easy and direct way.
Learn More About TuneFab Apple Music Converter
● Support advanced DRM decryption technology to fetch tracks from Apple Music within a click.
● Support built-in Apple Music web player to quickly extract Apple Lossless songs without iTunes.
● Support CD quality audio output in MP3, M4A, FLAC, and WAV formats.
● Support up to 5X decoding rate with stable performance and high success rate.
● Support batch download feature for a whole playlist or album with a button.
● Support original music ID3 metadata information preservation.
● Support unlimited Apple Music song downloads to high-quality audio files.
TuneFab Apple Music Converter enables a direct way to copy Apple music onto a USB stick/flash drive without opening iTunes. Let's look up the steps here.
STEP 1. Complete the Setup
Firstly, click on the Download button below to download and install the compatible installation package onto your Mac and Windows computer. You should also ensure that you have installed the latest version of iTunes. You don't need to run iTunes, but the program will use some of iTunes functions in the backend.
System Requirements
● Windows 7 or later on 64bit.
● Mac OS X 10.12 or higher.
STEP 2. Log in Apple ID Account
After launching TuneFab, you'll see the user guide for the first time. Click the Open the Apple web player button to proceed. Now, you'll need to log in with your Apple ID in the Apple Music web player so that TuneFab Apple Music Converter can access your favorite songs, albums, and playlists.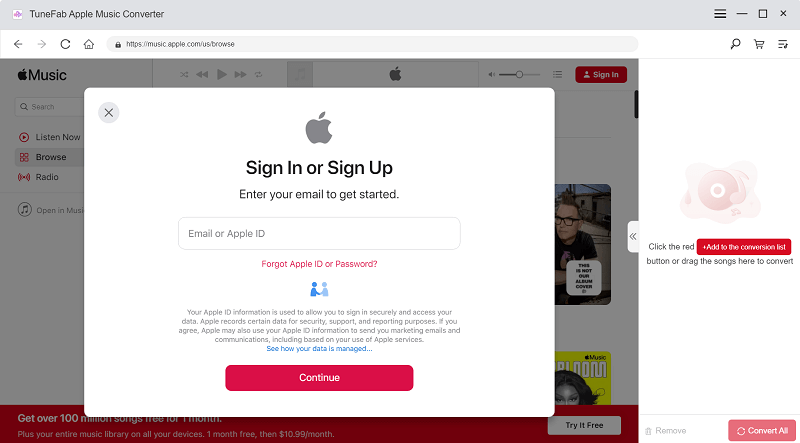 STEP 3. Insert USB Stick/Flash Drive
Please insert your USB stick or flash drive into your computer. You should make sure that the USB is under normal performance and can be read by the desktop/laptop.
You shall go to the Dropdown menu on the top right and select Preferences. In the General tab, click Browse to locate your USB stick and set it as the output folder.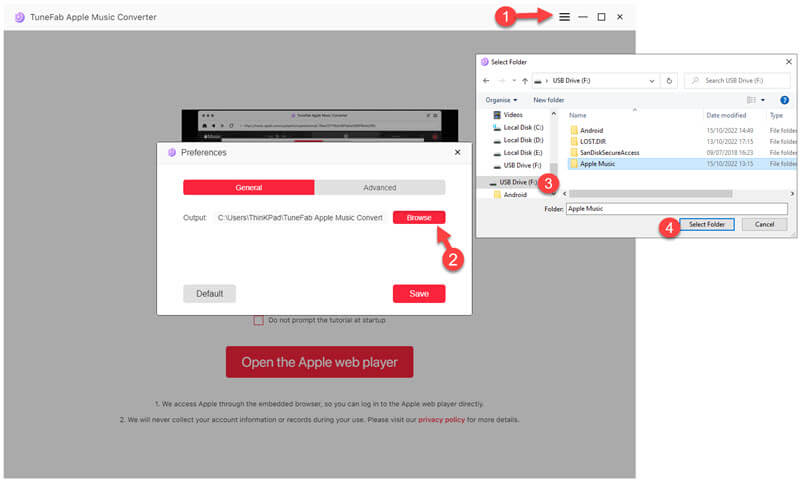 STEP 4. Select a Playlist/Album
Back to the Apple Music web player and enter an album or a playlist. Then, drag the song which you want to download to the red floating button. The program will fetch the track and you'll see the feed(s) in a popup window. Feel free to change the output format.
● You can download the whole playlist/album by directly clicking on the red floating button.
● It's recommended to download in MP3 format, a lossy but universally supported audio format.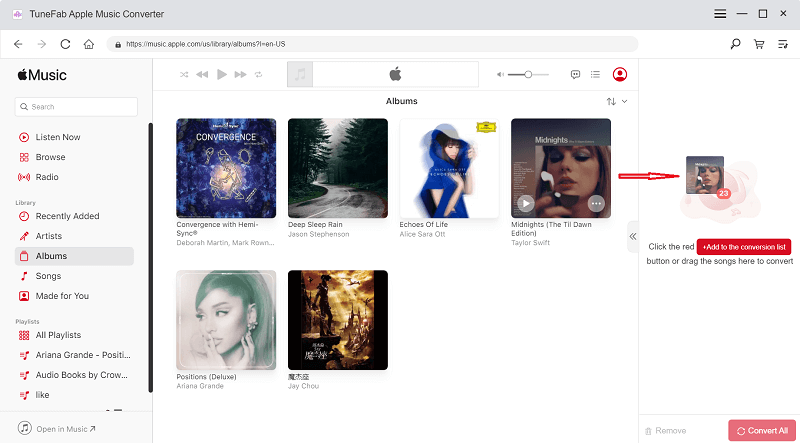 STEP 5. Start Transferring Music to USB
After you click the Convert All button, your selection starts being transcoded. The procedure goes through songs one by one. When it's all done, you will find Apple lossless songs stored on your USB stick.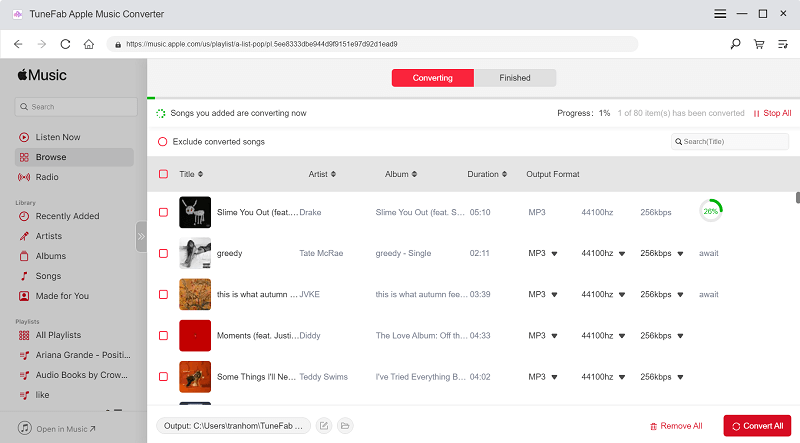 Frequent Asked Questions
Before we go any further, you may want to check out these FAQs to learn more about the trouble in transferring tracks from Apple Music.
Q1. Are Tracks from Apple Music Transferable?
There are many posts on forums such as Quora, Reddit, and Apple Community asking questions like:
● Can you put music from Apple Music onto a USB flash drive?
● How do I transfer tracks from Apple Music to a USB stick?
● Why can't I transfer the Apple Lossless songs I downloaded to my computer?
● ....
Apple has developed its own audio compression techniques to encrypt and restrict Apple Music tracks to be accessed, modified, and transferred by unauthorized devices, which are known as Apple Lossless Audio Codec (ALAC) and Advanced Audio Codec (AAC). You might be aware that the tracks you downloaded from Apple Music aren't able to be played on other music players but the Apple Music app.
Therefore, the official answer is NO thanks to its Digital Right Management technology. However, some professional tools like TuneFab Apple Music Converter make it workable to download and transfer Apple Lossless music anywhere you want.
Q2. What Devices Are Supported to Play Songs in USB?
After transferring Apple Music to a USB flash drive, it's possible to put the songs on almost any device including CarPlay, Windows computers, Mac, HomePod, smart audio speakers, smart TVs, and even Android phones with an adapter.
Google search indicates that people search a lot on how to put music on USB to car radio or head unit. That's true. I often hook up my USB flash drive to my car and enjoy Apple Lossless music while driving all the way.
Q3. Is Apple Music Worthy to Subscribe?
Apple Music plans allow subscribers to enjoy up to 100,000 track downloads and offline playback across different devices. That seems nice. However, the downloads are exclusive to playing in the Apple Music app and instantly unavailable when the plan expires.
Apple nowadays rolls out a new Apple Music plan - Voice at $4.99/mo to attract more listeners and increase its revenue. It seems to be fair enough despite having restrictions like limited downloads, limited devices, fair sound quality, no lyric view, and so on. You can determine whether to purchase the plan after reading the following part.
Final Words
That's the end of today's topic - How to put music on a USB drive for cars or speakers from Apple Music. You might already have a good answer in your mind. To enjoy a DRM-free experience on Apple Music, TuneFab must be a good helper indeed.
Was this information helpful?
TrustScore 2.2 | 10