Problems you may run into when you using your Apple Music:
"When I open my Apple Music and get ready to listen to Apple Music, all my Apple Music playlists are miraculously disappeared. It makes me feel frustrated. No matter how I sign in and sign out my Apple ID to reload my playlists, the playlists are still gone away. But all the playlists are available when I launched iTunes on my computer. How can I deal with it?"
Things you have encountered with seems to be difficult to solve. Here are some ways for helping you out of this question.
CONTENTS
In the light of your situation of subscription of Apple Music, you are able to bring your Apple Music playlists back in two ways. One is re-abled your iCloud Music Library, the other is making your Apple Music materials available permanently. Here I am going to tell you the details about them one by one.
Skill 1. Re-abled your iCloud Music Library
iCloud Music Library is the store which keeps all your Apple Music audio tracks, so if all your Apple Music playlists are all disappeared. The major reason to a great extent is that there might have something wrong with your iCloud Music Library. All you can do with it is that re-abled your iCloud Music Library. I am going to tell you to step by step on how to turn it on again.
Step 1. Turn on your iPhone Settings and scroll down to find Music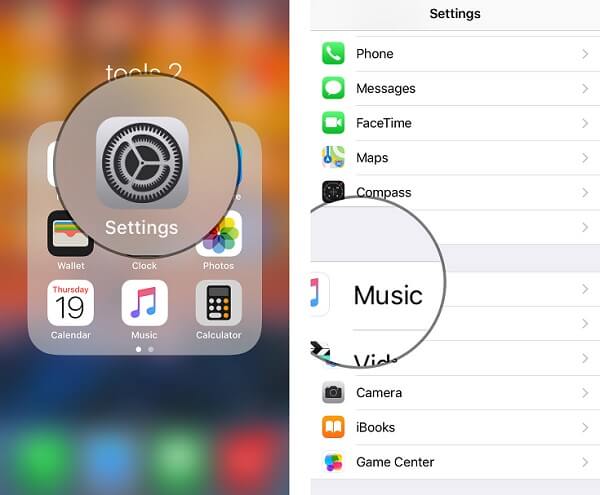 Step 2. Find the iCloud Music Library column
After move on to the Music page, you can see iCloud Music Library column where you can control your Playlists and songs handily. If you haven't turned on your iCloud Music Library, you can just turn it on and make your playlist available. However, if not, you should turn off the iCloud Music Library and enable it again to make your playlist audible.
Note: When you enable your iCloud Music Library, there are 2 choices for you and I am going to the suggestion to select the first one Keep Music.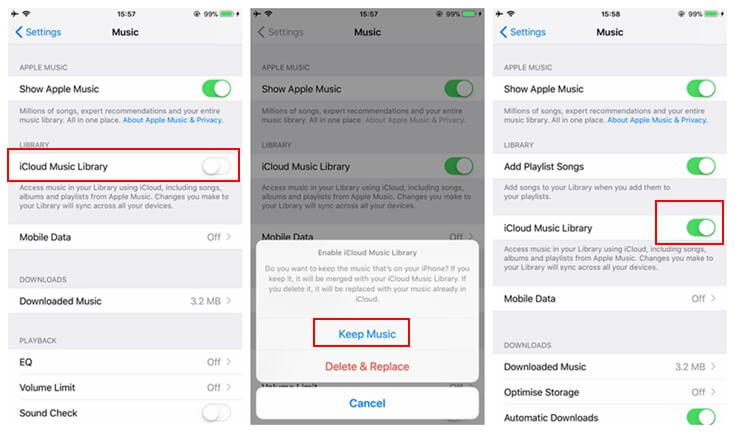 Now, you can see and listen to your Apple Music playlists again. However, there must be another situation of your Apple Music which leads to your Apple Music playlists disappeared your Apple Music Subscription out of date. But you don't want to renew your Apple Music and hence, you need a tool to keep your Apple Music available in spite of your subscription is overdue, TuneFab Apple Music Converter.
Skill 2. Make your Apple Music available for good
TuneFab Apple Music Converter is a tool which you can convert your Apple Music songs into MP3 format aimed at removing DRM from Apple Music and making your Apple Music permanent. It has many shining points, the main points are as follow. This software is allowed 2 version to you to opt.
Sundry format for converting Apple Music
It can convert Apple Music M4P audio files into a diversified MP3 format such as MP3, WAV, FLAC and so on. You can select your self-loving format to keep.
Rapidly conversion speed to convert Apple Music
There are different conversion speed you can choose. The maximum speed of converting Apple Music reaches up to 16X. You can get the audio files in a short time.
After knowing this tool, there is an instruction you can abide by for further enjoy it.
Instruction: How to Convert Apple Music to MP3
If you want to know more about it, you can watch the movies in below.
With TuneFab Apple Music Converter, you can break the DRM from Apple Music and keep the playlists all the way without worry about your Apple Music are subscribed or not. And here you can enjoy your Apple Music by following your inclinations.
You may love to: Tips on Use Apple Music Without iCloud Music Library
Was this information helpful?
TrustScore 5 | 49