The newly launched Apple system iOS 11 has added a social feature for Apple Music, which means that Apple Music users is available to connect with friends and share the playlists with each other now. To get start to find how it works, let's first know how to create your own profile and connect with friends on Apple Music with your iOS 11 iPhone.
How to Create Apple Music Profile
When it is your first to use this new social function, you need to begin with creating your own Apple Music profile. Follow these steps to first create the profile:
Step 1. Open Apple Music app, and go to For You section.
Step 2. Tap on the avatar on top right corner.
Step 3. Click on "Start Sharing with Friends"
Then you would begin to set your profile information.
Step 1. Click on "Get Started" on Discover Music with Friends page.
Step 2. Then in Help Others Find You, set your name, username, and also image which could help your friends recognize you. Click on "Next" when setting is finished.
Step 3. Next, turn to select who could view your shared playlists. You could choose from "Everyone" and "People You Approve" these two options (you are able to change this at anytime).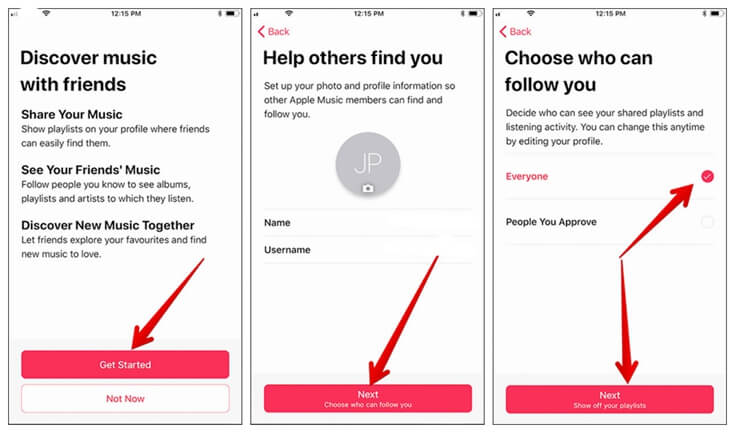 Step 4. Then you could select the playlists you want to shared with friends. Also, it is able to click on "Hide all" on the upper right corner to hide all the playlists and share none. Click on "Next" when settings done.
Step 5. Find and follow more friends who are using Apple Music to share playlists with them. You can click on "Follow" or "Invite" the people pop up. Or you can find more friends through some social media such as Instagram, Facebook, etc.
Step 6. The last step is to set whether you want to receive any notification. There are 2 options, "Friends" and "Artists and Programs", and you can turn them on/off. When finish, click on "Done".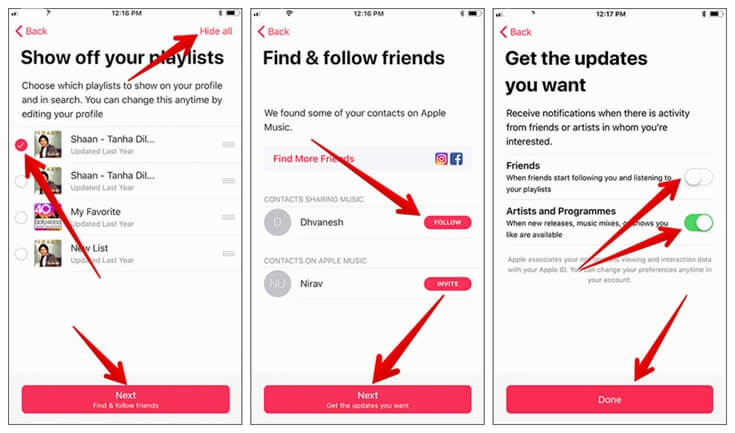 After creating the Apple Music profile, the next time you can directly view your profile page by clicking on the avatar on the upper corner of For You section. You are able to edit the information of your profile, including following, follower, shared playlists, etc. at any time.
Related reading: How to Follow friends in Apple Music on iOS 11
How to Share Playlists with Friends
Step 1. Open Apple Music app on iPhone (make sure you have installed iOS 11).
Step 2. Go to "For You", and click on the avatar on the upper right corner, enter the profile of your account.
Step 3. Click on "Edit".
Step 4. Then go to "Shared Playlists", in which you can edit the playlists you want to share to your friends.
How to Find Following Friend's Playlists
Step 1. Open Apple Music app and go to "For You" section.
Step 2. Click on the avatar on the upper right corner and go to your profile.
Step 3. Scroll down to find your Following and Follower.
Step 4. Click on one of your friends and go to his/her profile. Then select the playlist which he/she has shared.
Step 5. Click on "Add" to add it to your library.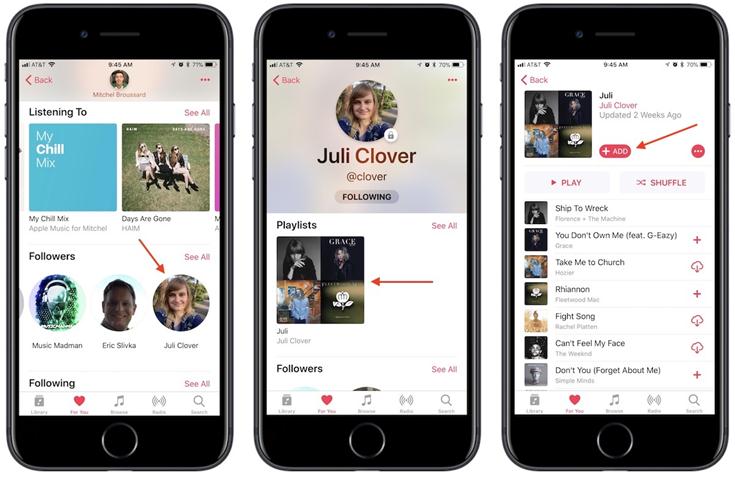 This new social function of Apple Music profile on iOS 11 has created more interaction between users. Users can now share playlists with their friends instead of listening to the songs they find by themselves or recommended by Apple Music. It makes users enjoy a much wider range of songs and gain more interest while sharing playlists with friends.
Tips: Converte Apple Music to MP3 in iOS 11
As an Apple Music subscriber, you may also have the thought to keep the Apple Music songs or play them on other non-apple devices and media players. In face, you would fail to do this because all the songs in Apple Music are well-protected by Apple's Fairplay DRM - a technology mean used to protect digital contents from being copied and transferred.
But TuneFab Apple Music Converter would be a good choice to legally remove DRM from Apple Music songs. It is high-efficient and with fast conversion speed. Now TuneFab Apple Music Converter is also available on iOS 11 system. You can try it free!
Was this information helpful?
TrustScore 5 | 49